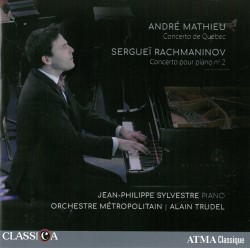 André Mathieu: Concert de Québec, Sergei Rachmaninov Piano Concerto No.2
Jean-Philipe Sylvestre; Orchestre Métropolitain, Alain Trudel
ATMA ACD2 2763
Review
The following review is an excerpt from Keyed In (October 2017) which can be read in its entirety here.
Jean-Philipe Sylvestre is the recipient of many prestigious Canadian and international piano performance awards. His new recording André Mathieu – Concert de Québec, Sergei Rachmaninov Piano Concerto No.2; Orchestre Métropolitain, Alain Trudel (ATMA ACD2 2763) is an important document for several reasons. It presents this extraordinary artist in an impressive light, revealing his technical power and profound musicality.
It also brings back to the Canadian recording marketplace the rare music of a young 13-year-old André Mathieu, trapped with his family in North America by the outbreak of the Second World War. The simple version of the story is that the young Canadian composer won the New York Philharmonic's Composer Competition celebrating the orchestra's centennial. His subsequent work fared less well, but his Piano Concerto No.3, written in 1942-43 and eventually renamed Concert de Québec so as to work better as a film score, is now winning renewed admiration. The score used for this recording is deemed fairly complete and authentic, based on the original score for two pianos. Still, a definitive final version is currently underway and is promised for a couple of years hence.
There's no mistaking the affinity Mathieu's music has with Rachmaninov's. Mathieu's mother long cherished and promoted the undocumented notion that Rachmaninov had seen young Mathieu's scores in Paris and responded flatteringly to them. True or not, this music restores a creative work that brought musical life to an early French Canadian film. It's big, gorgeous and so very Hollywood. Sylvestre and Trudel have produced a superb disc!