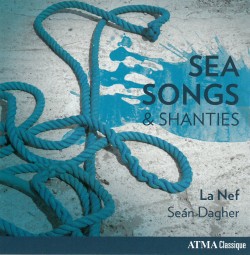 Sea Songs & Shanties
La Nef
ATMA ACD2 2749
Review
The following is an excerpt from Editor's Corner (September 2017) which can be read in its entirety here.
The next disc also comes out of Quebec, but that's about where any resemblance ends. I first thought that Sea Songs & Shanties (ATMA ACD2 2749) was a departure for La Nef (la-nef.com) but I now realize that in their more-than-two-and-a-half-decade history La Nef has encompassed a wealth of styles from "early music, the music of oral traditions, world music, experimental and contemporary approaches to musical creation."
This current project is under the direction of eclectic singer Seán Dagher, himself as at home in an Irish pub as in many musical traditions from Medieval and Baroque through contemporary folk. Dagher tells us: "These songs did not start out as music to be heard. These were songs to sing, songs to help with the work, songs to pass the time. Their original functions influenced the way they are built […] as call and response songs: a whole crew can learn a song from one man in the first instants he's singing it. They are sung rhythmically, so the hauling is most efficient. Or they are sung freely, as if to fill the long days and evenings spent together. These songs are spread by oral trading, creating many variants and variations."
This tradition was brought home to me earlier this summer when I came upon a version of the song I had grown up believing was called Sloop John B. As I found out from Tom Lewis' rendition of the original Nassau Bound, the Beach Boys "left out the [most interesting] parts." That, in combination with re-visiting a disc I wrote about last year, by Chaim Tannenbaum, which includes a duet with Loudon Wainwright on the traditional tune Paddy Doyle, primed the pump for my appreciation of this Irish-tinged maritime journey with La Nef.
The disc opens gently with Leave Her, Johnny, with sparse cittern accompaniment that gradually adds more voices, bass and flute and grows to a full finish replete with bosun's whistle, wave sounds and seagull cries. As the disc progresses through drinking songs and laments, cautionary tales of press gangs and ship wrecks, welcoming tunes like Over the Hills and Far Away and Haul on the Bowline, we are drawn into the myriad moods of the seafarer. It's at times randy and rugged, so strap yourself to the mast and prepare for adventure. But be forewarned, like shades of the John B: "I hate to sail on this rotten tub; No grog allowed and rotten grub," so pack a lunch!