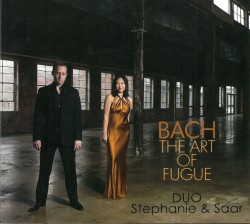 Bach – The Art of the Fugue
Duo Stephanie & Saar
BWV 1080 (New Focus Recordings FCR181)

Review
The following review is an excerpt from Keyed In (September 2017) which can be read in its entirety here.
Duo Stephanie & Saar have taken a novel approach to their latest recording project Bach – The Art of the Fugue, BWV 1080 (New Focus Recordings FCR181). Taking advantage of their duo nature, they perform some selections as four hands, some as two pianos and the simpler two-voice canons as solos.
The sheer weight of the genius behind the music makes focusing on any other aspect of the performance nearly impossible. As one of Bach's final utterances, unfinished at that, it reveals the ability of this composer to think about musical development forwards, backwards, inverted, expanded and contracted, and most often in some combination of these.
In this respect the work is very much like the Goldberg Variations, where a good performance quickly yields to the content of the music while the performer is lost to the larger presence of the art form.
The Duo Stephanie & Saar (their first names) are highly disciplined and always turn their skills to the contrapuntal possibilities Bach has laid out in the score, regardless of whether it's for two voices or four. They keep expression to a polite minimum, revealing the beauty of the growing complexity in the larger fugues.
The two-disc set is one you know you'll play many times, waiting to find newly revealed truths.