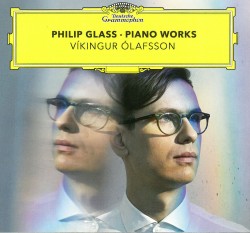 Philip Glass – Piano Works
Vikingur Olafsson
Deutsche Grammophon 479 6918
Review
The following review is an excerpt from Keyed In (April 2017) which can be read in its entirety here.
Mid-30s Icelandic pianist Vikingur Olafsson is a Juilliard graduate and a busy concert performer with a passion for contemporary music. His acquaintance with Philip Glass makes for fascinating reading in the liner notes of his new recording, Philip Glass – Piano Works (Deutsche Grammophon 479 6918).
The recording is largely devoted to 11 of the 20 Études that Glass wrote between 1999 and 2012. Olafsson plays them from a personal place of detachment but with all the subtlety and nuance they require. His performance of the final Étude No.20 is striking for its otherworldly feel. He relates the story of asking Glass how this one étude came to be so different and how the composer answered that he didn't know, he just somehow found himself out in space.
The disc also includes the now well-known Opening from Glassworks as its first track. The same piece appears again as the final track, but reworked for piano and string quartet. It's a very satisfying comparison. The reworked version comes across with richer sonority, and with the piano taking on a much lesser role than might be expected.
Olafsson has produced a very fine performance in a field growing ever more populous. The calibre of his playing assures he will always stand out.