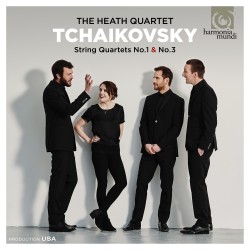 The Heath Quartet
Tchaikovsky String Quartets Nos.1 & 3
Review
The following is an exerpt from the November 2016 Strings Attached.
The British string ensemble the Heath Quartet has built an enviable reputation for itself since its foundation at the Royal Northern College of Music in Manchester in 2002, and garnered glowing reviews for its 2013/14 recording of the complete string quartets of Sir Michael Tippett that comprised its debut CD on the Wigmore Hall Live label last year.
Their new CD of Tchaikovsky String Quartets Nos.1 & 3 (HMU 907665) marks the start of a new relationship with the outstanding Harmonia Mundi label, and what a start it is!
The String Quartet No.1 in D Major Op.11 was written for a March 1871 concert intended to promote Tchaikovsky and his music, and includes the famous Andante cantabile slow movement which almost immediately achieved a life of its own. The Heath Quartet is in tremendous form from the outset, with full-bodied and passionate playing, a warm, rich tone, a lovely dynamic range and sensitive phrasing.
The players for the first performance, assembled from Tchaikovsky's colleagues at the Moscow Conservatory, were mostly the same for the String Quartet No.2 in 1874. Ferdinand Laub, the Czech first violinist in both performances, died the following year at 43, and the String Quartet No.3 in E-flat Minor Op.30 was Tchaikovsky's response to the loss. The third movement Andante funebre e doloroso was intended as an elegy to Laub, and not surprisingly made the biggest impression at the premiere. It really is played quite beautifully here.
The Heath Quartet's next CD release will be the complete Bartók quartets in 2017, apparently recorded during its performance of the complete cycle at London's Wigmore Hall this past May. That cycle won rave reviews in The Telegraph, and if this outstanding Tchaikovsky CD is anything to go by the Bartók issue should really be something to look forward to.
Concert note: The Heath Quartet will feature music of Bach, Beethoven, Bartók and Dvořák during its Canadian debut tour which includes performances at the Kitchener-Waterloo Chamber Music Society on January 20 and Mooredale Concerts in Toronto on January 22.