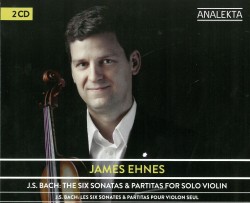 J.S. Bach: The Six Sonatas & Partitas for solo violin
James Ehnes
Analekta AN 2 8772-3
Review
The following is an excerpt from Strings Attached (November 2016) which can be read in its entirety here.
There's a tendency among leading violinists to leave recording the Bach Six Sonatas & Partitas for Solo Violin until they have been living with them and performing them for some considerable time, given the soul-searching nature of the music. If they do revisit them at a much later date, it's usually to offer a fresh interpretation that reflects their ever-evolving relationship with these astonishing works.
James Ehnes, who turned 40 this year, was only in his early 20s when he recorded the Sonatas & Partitas for Analekta just over 16 years ago, but his recent revisit (AN 2 8772-3) is a reissue, and not a re-recording. In his introductory note Ehnes acknowledges that his interpretations have evolved over the years, and will continue to do so throughout his life, so it's perhaps a bit surprising that he didn't take this opportunity to offer an updated version. Still, when you play them like this, who needs to?
This set often turns up in personal choice lists of the best versions available, and it's easy to see – and hear – why: Ehnes plays with grace, ease and eloquence, and with complete technical mastery coupled with emotional warmth and intellectual insight. There's a smooth, effortless and almost religious serenity to these performances (the recordings were made in a church) with towering fugues, achingly beautiful andantes and wonderfully rhythmic dance movements.
If you missed this set the first time around you might want to put that right – it's one to treasure. And, oh, that 1715 "Marsick" Stradivarius violin!