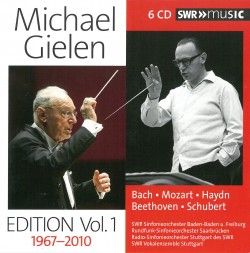 Michael Gielen Edition Vol.1 1967-2010
Various Artists
SWR19007CD
Review
The following is an excerpt from Old Wine in New Bottles - Fine Recordings Re-Released (October 2016) which can be read in its entirety here.
Michael Gielen, for those who may not recognize his name, is an Austrian conductor whose career has been an interesting one. He was born in 1927 in Dresden and two years ago this month he officially retired from the podium for health reasons. His family moved to Buenos Aires in the 1930s where he studied piano, introducing audiences there to the entire piano music of Arnold Schoenberg in 1954. His uncle was Eduard Steuermann, who was a recognized advocate for Schoenberg and remembered today for his arrangement of the sextet Verklärte Nacht for piano trio. Steuermann was a teacher of Alfred Brendel. Returning to Europe in 1950 Gielen became a répétiteur at the Vienna State Opera coming into contact with Karajan, Bohm and other luminaries of the era. In 1952 he conducted the Vienna Konzerthaus Orchestra and made LPs for American companies. 1954 found him conducting the Vienna State Opera in addition to concerts of contemporary music elsewhere. From 1960 to 1964 he was conductor of the Royal Opera in Stockholm and from 1964 to 1984 he was to be found in Stuttgart conducting the Radio Symphony Orchestra, working for a time with Sergiu Celibidache. During that period he was also principal conductor of the Belgian National Orchestra (1968-1973) and principal conductor of the Dutch Opera in Amsterdam (1973-76). He was first guest conductor of the BBC Symphony (1978-1981) and from 1980 to 1986 he was music director of the Cincinnati Symphony. Later he was principal conductor of the SWF Orchestra in Baden-Baden (1986-1999). He was professor of conducting in Salzburg from 1987 to 1995. He conducted his last concert with the NDR Orchestra in 2014.
Normally the above brief outline of his career would not belong here but as many casual music lovers and collectors are unfamiliar with Gielen, his recorded performances, even if they were noticed, could very possibly be passed by without a second thought.
SWR Music has issued the first of a ten-part series of Gielen performances, Michael Gielen Edition Vol.1 1967-2010 (SWR19007CD, 6 CDs), a good percentage of which are first releases. There are two pieces by Bach, the Prelude and Fugue Book 1 No.4 BWV849 and an excerpt from Cantata BWV50, followed by Mozart: Symphonies 30, 35 and 36, German Dances, Overtures and Minuets. Haydn's Symphonies 95, 99 and 104, then Beethoven's three Leonore Overtures and Coriolan followed by the Triple Concerto with Edith Peinemann, Antonio Janigro and Jörg Demus. Schubert is well represented by music from Rosamunde; the Overture, Ballet Music and the Entr'acte after the third act; Mahler's transcription for string orchestra of the quartet Death and the Maiden; Intende voci – Offertorium for tenor, mixed chorus, organ and orchestra D963 sung by Thomas Moser, the Slovak Philharmonic Choir of Bratislava and the SWR Symphony of Baden-Baden and Freiburg followed by the Mass No.5 in A Major D678.
Usually, in any collection of this kind some performances are less interesting – they have to be. Not so here. Every performance is quietly engaging in tempi, choice of phrasing and subtle variations in volume – not for the sake of doing something differently from accepted practices but because it sounds exactly right, prompting one in each case to hang on to the work with fresh interest. These are performances that invite the listener in and hold her or his interest through to the last note, especially if that person is familiar with other versions. The sound is very good; only one or two pieces have that tight rundfunk studio sound to which the ear quickly adjusts.
The Gielen Edition is off to an auspicious start. Talk about great expectations!