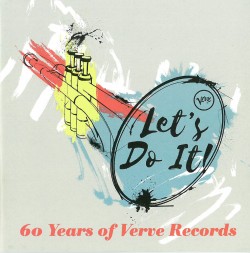 Let's Do it! 60 Years of Verve Records
Various Artists
Verve 4782558
Review
The following is an excerpt from Old Wine in New Bottles - Fine Recordings Re-Released (October 2016) which can be read in its entirety here.
A long-time fan of JATP through their concert recordings and individual albums of many of their artists, I was intrigued about the contents of Let's Do It! (Verve 4782558, 4CDs), selections from across 60 Years of Verve Records. As it turns out, the choice of 47 memorable tracks, the earliest from 1953, could not be more pleasing or better sequenced. Featured artists include the Oscar Peterson Trio alone (C Jam Blues) or collaborating with Louis Armstrong, Ella Fitzgerald, Bill Henderson (in a haunting version of The Lamp Is Low), Coleman Hawkins, Ben Webster and Milt Jackson. Listeners are reminded of, or introduced to, the artistry of Johnny Hodges, Stan Getz, Herbie Hancock, Tal Farlow, Kenny Barron, Jimmy Smith (The Cat), Cal Tjader, Count Basie, Roy Eldridge, Billie Holiday, Anita O'Day, Arthur Prysock, Diana Krall and, of course, Astrud and João Gilberto forever sighing over The Girl From Ipanema with Stan Getz.
The recorded sound should be mentioned. We are so accustomed to hearing recordings and video soundtracks that are a product of manipulations in the control room that it is like a breath of fresh air to hear exactly what the microphones heard, clearly, dynamically correct and distortion free. What one hears on these four discs is the real deal, deserving the highest recommendation.