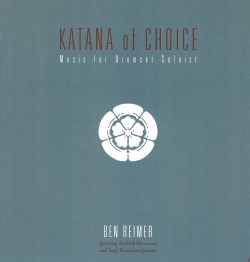 Katana of Choice
Ben Reimer
Redshift Records TK456 (redshiftrecords.org)
Review
Virtuoso Montreal percussionist Ben Reimer has made a name for himself as a leading drum soloist, shredding works by elder statesmen of the jazz drumset (Baby Dodds, Tony Williams), as well as works by leading art music composers such as Nicole Lizée and Lukas Ligeti. Reimer reinforces that reputation in Katana of Choice his inaugural album (available on vinyl and digital download).
Reimer puts his cards on the table in Drum Dances by New Zealand composer John Psathas (b. 1966), the first four tracks on the album. Arranged by Ben Duinker, these sleekly crafted pieces, framed by the brilliant keyboard percussionism of Montreal's Architek Percussion Quartet, are an apt frame for Reimer's abundant technique and musicality.
The intense Ringer by Nicole Lizée – found only on the digital version of the album – is a tour de force for drumset soloist. Vernacular drum references are handled with sensitivity by both composer and performer, notwithstanding the aggressive pairing of high-octave glockenspiel melodies and high-frequency, high-hat rhythms.
The lengthy Katana of Choice, also by Lizée and featuring the accomplished TorQ Percussion Quartet, is perhaps the most ambitious work on the recording. Reimer's drumming here is fully incorporated into the ensemble texture. The work is inspired by duel-based narrative video games and wuxia martial arts films, as the composer's notes state. The music moves unrelentingly from one imaginary scene to another "with unexpected twists in which [musicians] trade off, pushing one another technically and sonically." Katana of Choice is an exhilarating musical ride – as is the entire album.