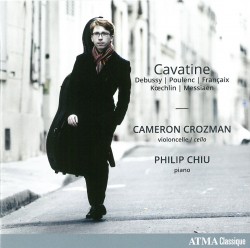 Cavatine
Cameron Crozman; Philip Chiu
ATMA Classique ACD2 2787 (atmaclassique.com/En/Albums/AlbumInfo.aspx?AlbumID=1619)
Listen
Sonate I Allegro
Sonate II Cavatine
Quatuor pour la fin du Temps
Read the Review
The following review is an excerpt from Strings Attached (March 2019) which can be read in its entirety here.
Cavatine is the really impressive debut CD from Canadian cellist Cameron Crozman, ably accompanied by pianist Philip Chiu (ATMA Classique ACD2 2787; atmaclassique.com/en). Having studied at the Paris Conservatoire for six years Crozman says it was inevitable that his first album would be filled with French music, and the multi-faceted program here includes Debussy's Cello Sonata from 1915 and works that the soloist feels emerged from the new wave that Debussy created.
The delightful Cello Sonata by Francis Poulenc really deserves to be heard more often; completed in 1948, its four movements are full of the lyrical charm so typical of the composer.
In the early 1930s Charles Koechlin set 20 Breton folksongs for cello and piano, the first two of the three sets being published in 1934 as Chansons bretonnes sur des thèmes de l'ancien Folklore Op.115; four short pieces from the first collection and two from the second are heard here.
Jean Françaix's Variations de concert date from 1950, the ten brief variations displaying a wide range of mood, style and tempo, and ending with a dazzling final variation.
The Louange à l'éternité de jésus, the fifth movement from Olivier Messiaen's astonishing Quatuor pour le fin du Temps completes the disc. A calm, soaring and meditative cello melodic line over quiet piano chords, it perhaps loses some of its effectiveness outside of the context of the complete work, but nevertheless is a beautiful ending to a highly commendable CD.