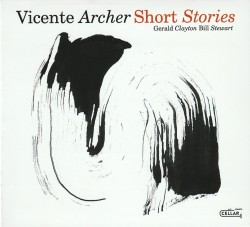 Short Stories
Vicente Archer; Gerald Clayton; Bill Stewart
Cellar Music CM060922 (cellarlive.com)
New York City-based bassist and composer, Vincente Archer is a bit of a gifted chameleon, and with the release of his first recording as a leader Archer feels that he has finally revealeds his authentic self – personally and musically. Archer's inspired collaborators here include pianist Gerald Clayton and drummer Bill Stewart. This compelling project was propelled by executive producer Cory Weeds, along with producer and noted trumpeter Jeremy Pelt. With the exception of three tracks, all compositions were created by the gifted triumvirate.
First up is Mirai (Archer), a gossamer-like jazz ballad, replete with a steady, heartbeat of bass punctuated by contrapuntal electric and acoustic piano work from Clayton and incredibly sensitive and yet powerful drumming by Stewart. Clayton's Round Comes Round follows with boppish motifs coming into play, along with a dizzying piano intro by Clayton, followed by a symbiotic entrance of bass and drums. The trio seems to communicate with pure telepathy here, and the ESP continues in the form of a sinuous bass solo and superb, nuanced drumming from Stewart.
Another of Archer's tunes, Lighthouse, is an energizing highlight, featuring Archer's lithe fingers flying across the bass fingerboard and laying it down with his unique voice. Of rare beauty is Stewart's Drop of Dusk which exemplifies the "art of the trio" – replete with its stirring, Romantic sub-text, punctuated by brilliant, complex piano work from Clayton. On every track here, Archer's bass sings and deftly touches those deep, subcutaneous parts of us that are shared by all human beings, underscoring and celebrating our one-ness. The only flaw with Short Stories is that the stories should be longer!