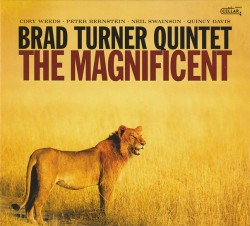 The Magnificent
Brad Turner Quintet
Cellar Music CM011523 (cellarlive.com)
All nine of the compositions here were penned by Brad Turner, with Cory Weeds and Turner producing. The title is an homage to a late great trumpeter, harkening back to the 1956 Blue Note release, The Magnificent Thad Jones. For this project, Weeds encouraged Turner to select a "band of his dreams" which, in addition to Turner on piano and trumpet, includes Weeds on tenor saxophone, Peter Bernstein on guitar, Neil Swainson on bass and Quincy Davis on drums.
First up is the melodic You're OK, replete with a stunner of a trumpet solo from Turner. His tone, intonation, ideas, expressiveness and sheer technical skill are mesmerizing. The equally gifted Bernstein seems to sing through his guitar, using all of the possible emotional colours. Next is Barney's Castle – an up-tempo, bop burner, in which the ensemble moves as a one-celled organism, gliding through dynamic, unison horn lines. Weed's exquisite sound and rhythmic sensibility create a heady mix and Davis masterfully drives the ensemble down the pike, while Swainson establishes the tempo in his unique, potent way.
Another standout is the languid and sultry Virtue Signals. Turner has said that this track is "simply a complete chromatic scale (though ornamented and disguised) in descent" – and yet the lithe beauty of the composition is palpable. Bernstein shines here, as does Turner on piano. The title track does not disappoint, and the cohesion of the musicians' ideas and approach are nothing short of luminous. A true highlight is the almost unbearably gorgeous Theme for Jocie – a ballad written for Turner's partner and fellow trumpeter Jocelyn Waugh, where Turner wraps his warm, evocative, trumpet sound around every note.