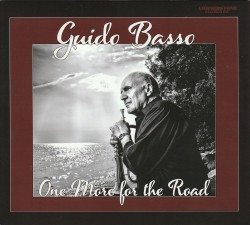 One More for the Road
Guiso Basso
Cornerstone Records CRSTCD165 (cornerstonerecordsinc.com)
On this posthumous release, the legendary Guido Basso's trumpet tone is absolute exuberant velvet, sounding equal parts strikingly warm and nimble. On these sessions Basso is paired up with many of Canada's most illustrious, often with emphasis on the word "pair." Highlights include the understated beauty of My Ideal with Lorne Lofsky, following the vigorous Blue Monk with Don Thompson (in which Thompson cannot resist dropping that little All Blues reference at the end).
For a relative vault collection, One More for the Road has been taken meticulous care of. Sequencing is top-notch, Basso's takes are transcendent, sonic fidelity is given the care it deserves, filler and fluff nowhere to be found. If anything, this album is a celebration of musical interaction, and the joy of sharing time with others. Every single musician has completely demonstrated control of their craft, and yet they sound that much more inspired bouncing ideas off each other. Ill Wind's first bridge sports the heaviest, cleanest triplet you are likely to come across, with Neil Swainson and Terry Clarke allowing every Basso phrase ending a runway of silk. As a rule, any tune with the legendary Jimmy Dale has earned the headphones treatment, as it doesn't get much more lush or restorative than this. It is also a testament to Basso's integrity as an improviser and accompanist that Bye Bye Baby's stride feel ends up equally nurtured by his presence.