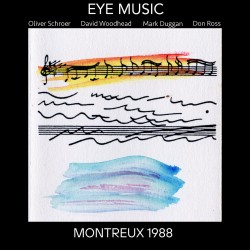 Montreux 1988
Eye Music
Independent (markduggan1.bandcamp.com/album/montreux-1988)
Toronto-based band Eye Music's superb 2023 debut album is an actual throwback: it was recorded live in 1988 at the Montreux Jazz Festival, Switzerland. To my ears this 35-year-old novel take on folk-inflected jazz still sounds compellingly fresh today.
Eye Music featured the late, great violinist Oliver Schroer, guitarist Don Ross, percussionist Mark Duggan and bassist David Woodhead, all gifted musicians at the brink of substantial careers. Their inspired music on Montreux 1988 is a snapshot of a made-in-Southern Ontario musical moment.
Booked on the strength of their Portastudio cassette demo, they were reportedly the only Canadian act to play Montreux that year. Impressive enough to land a spot sight-unseen at a major European festival, why haven't we heard of Eye Music? Part of the answer is that the group was active only between 1987 and 1989.
We finally get a chance to hear what the excitement was about on this album, their Montreux concert artfully distilled into seven tracks digitalized from aging original analogue tapes.
Five titles were composed by Ross – his use of alternate guitar tunings and unique "fingerstyle" was an essential part of the group's sound – plus one each by Duggan and Schroer. Each tune has its own character and charm, the album filled with spiky rhythms, lush harmonies and a lighthearted feel, further enlivened by imaginative virtuoso solos. The cherry on top is the sensitive ensemble musicianship of all four members.
More good news: Eye Music is reforming with a new violinist and planning live performances for the 2023 summer festival season.