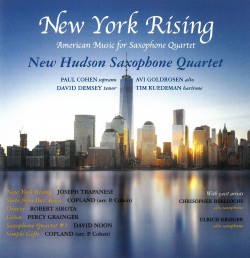 New York Rising – American Music for Saxophone Quartet
New Hudson Saxophone Quartet
Independent (store.cdbaby.com)
The New Hudson Saxophone Quartet is led by Paul Cohen (soprano), who also arranges two of the selections on this CD. Avi Goldrosen (alto), David Demsey (tenor) and Tim Ruedeman (baritone) complete the group which plays cleanly and expressively, delivering nuanced performances of several conceptually related works.
The opening New York Rising (2003) was composed by Joseph Trapanese who evokes his sense of "curiosity and determination" from the time he moved to New York as a freshman music student and watched the sun rise from his small practice room. The piece is descriptive as it moves us through the day in this fabled city, from the Prelude, to the Chorale and then ending with the Fugue which represents the city at its busiest. The album's centrepiece, the five-movement Diners (Robert Sirota, 2009), written for this quartet, was inspired by three of the composer's favourite diners and his travels to them through the city and suburbs. A highlight is the final Taking the N train to Dinner at the Neptune, Astoria, Queens where we hear the quartet emulating the rattling of the elevated subway as a counterpoint to the dining experience.
The three-movement Saxophone Quartet No.1 by David Noon (2001), two works by Aaron Copland (arranged by Cohen) and Lisbon by Percy Grainger, round out the album. The quartet sound is excellent on all tracks and the range of compositions create diverse and engaging portraits of New York.