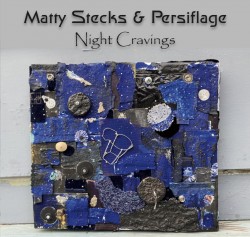 Night Cravings
Matty Stecks & Persiflage
(persiflage.bandcamp.com)
It was Thelonious Monk who once said "a genius is the one most like himself." In my eyes, that's the goal: to acquire a distinct sound. Playing with technical prowess is impressive on its own, but knowing all the notes is only half the battle. It's what you do with said notes that defines your artistry.
Saxophonist Matt Steckler and his quintet Persiflage certainly exhibit an immense command of their sound on this latest effort. As he often does, Matty Stecks beautifully showcases the sheer range and breadth of his compositional talents. Not only are his melodies ingenious and wonderfully complex, but the way he manipulates form in each composition makes for a consistently exhilarating listen. There seems to be a curve ball thrown around every corner. I find myself particularly blown away by my initial listen of Agriturismo. The tune kicks off with a slightly disconcerting march, reminiscent of Henry Threadgill. Once a natural climax is reached, they hastily dissolve into a guitar/drum duet, which transitions seamlessly into an open trombone/bass improvisation and saxophone solo.
The textures accomplished on this album are something else, which can be largely attributed both to the group's general attentiveness and specifically the Herculean efforts of percussionist Satoshi Takeishi. Persiflage is simply an astounding band, and the results on this recording speak for themselves.