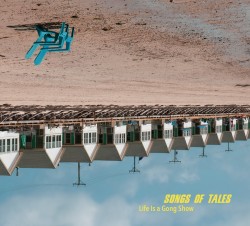 Life is a Gong Show
Songs of Tales
Roots2boot Recordings (roots2boot.com)
A bewitching collaboration born from the minds of four talented jazz musicians from across Canada, this debut CD is a simple yet complex musical hodgepodge of eclectic rhythms and meandering melodies brought together by great musicianship. Saxophonist and keyboardist Petr Cancura; Jean Martin on drums, vibraphone and electronics; Jesse Zubot on violin, bass, congas and synths; and Gordon Grdina on oud, guitars and bass, together produce a very apparent likeminded flow of creativity and expression. What really makes this album stand out is the instrumentation featuring the pairing of saxophone and violin that often play main melodic strains together; the tracks take on a unique modernistic quality yet still with a touch of authenticity. Throw the electronics into the mix and you have a truly pleasurable avant-jazz-pop-jazz album.
The record starts off with a picturesque opening track, Traure, which calls to mind a scene from a western with a classic cowboy staredown which reflects the fact that partial inspiration for this album is taken from film music. Burning Bright takes on another tone altogether, leaning more towards jazz with rhythmic complexity, sax and vibraphone melody and a hint of uncertainty stirred in. The album ends with Mary Go Round, a track that conjures up the image of a vast expanse, a melancholic and haunting violin and acoustic guitar theme bringing the scenic musical journey to a close. A truly interesting and inspiring album.