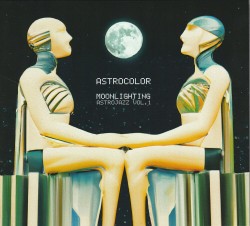 Moonlighting – AstroJazz Vol.1
Astrocolor
Amelia Recordings AML0012CD (astrocolormusic.com)
Fittingly timed with the extraordinary events taking place in regards to space travel at the moment, this latest record by Western Canadian Music Awards Instrumental Artist of the Year, Astrocolor is a perfect spacey, otherworldly musical foray. A mellow, ear-pleasing journey is exactly what these tunes call to mind, with an additional contagious repetitive rhythmic groove that just leaves the listener wanting more. With a lineup of great musicians such as Neil James Cooke-Dallin on synths, guitar, etc., Andrew Poirier on guitar, William Farrant on bass to name a few, these original compositions are propelled to great new heights.
Astrocolor has managed to create a completely new niche for themselves in the jazz world, "blending elements of jazz, psychedelia and electronica — …resulting in the aptly dubbed [genre] 'AstroJazz.'" The feeling throughout the album is as if you're straddling the border of the modern and new, the traditional and contemporary; floating in this pleasant, almost trance-like musical state of mind that you don't want to emerge from. It's a complete, immersive musical experience quite unlike anything else, where the psychedelia of the past meets with the technology of the here and now. "Moonlighting imagines an exploratory trip into deep space… recalling the influence of late 90s electronic acts…" through layering fantastic synthesizer melodies and programming over a traditional band setup. For those who have been itching for something completely new and unique, this is the find you've been looking for.