Trying to release more music than fits on a conventional album has been a situation artists have faced since the invention of recorded music. Although advances in technology now offer more space; exposing multiple artists' ideas and/or exhibiting the scope of a career, call for more than one disc. That's what these multiple disc sessions offer.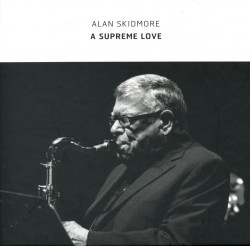 Born in 1942, UK saxophonist Alan Skidmore's career has encompassed mainstream jazz with big bands and combos; studio work; R&B bands; early fusion; exploratory free music; and contemporary improvisation. Like players such as New York's Dave Liebman and Toronto's Pat LaBarbera, John Coltrane's influence has been Skidmore's touchstone. A Supreme Love (Confront Core Series Core 33 confrontrecordings.com.bandcamp.com/) shows his adaptation of the style in various settings on six CDs and 46 tracks from 1961 to 2019. If there's one axiom that's clear from the discs, it's that Skidmore does his best work when challenged by other strong personalities, rather than being the focus of attention. Despite notable excursions on soprano saxophone, his most assured playing also a comes as a tenor saxophonist. While there may be a few too many tunes associated with Coltrane here, Skidmore's are honest interpretations with flashes of originality. His ballad style on song standards can't be faulted, but a combination of familiar material played with lugubrious sounding usually Continental big bands weighs down the performances. Two one-offs are particularly instructive. During a 1971 jam with Weather Report – keyboardist Joe Zawinul, percussionists Alphonse Mouzon and Dom Um Romao, soprano saxophonist Wayne Shorter and bassist Miroslav Vitous – his building solos help push the others towards unhyphenated pure jazz not the slicker fusion tropes dominated by keyboard tinctures the band helped to create and solidify. Seventeen years later he jammed with Elvin Jones, the drummer in Coltrane's classic quartet on a simple blues, where he faced off against tenor saxophonist Sonny Fortune of the drummer's working group. Propelled by Jones' faultless beat that dovetails into an extended and propulsive solo, Skidmore demonstrates how he could have fit in Trane's bands. Still, the most distinctive playing is in tracks featuring the all-saxophone free music SOS trio with himself, alto saxophonist Mike Osborne and baritone/soprano saxophonist John Surman; and a brief reprise with just Surman; quintet improv alongside Canadian trumpeter Kenny Wheeler in 1969 and 1980; plus fruitful individual meetings with fellow tenor saxophonist Paul Dunmall or drummer Tony Levin. Harmonized, 1974's Country Dance by SOS shows how reed blending creates sounds both Arcadian and avant. The 1991 Skidmore-Surman three-track reunion is more coordinated, faster-paced bluesier and jazzier. The Wheeler tracks were the height of modernity in 1969 with the trumpeter more ebullient than remembered, a fiery rhythm section and the saxophonist negotiating the evolution from emotional hard bop to the ping-ponging textures of free jazz. By 1980, playing his own Just Once with a more intense rhythm team, Skidmore pushes himself further outside with bent notes and smears as Wheeler squeaks out positioned triplets, although exploratory sounds are embedded within linear evolution. Oxford Road #13 with Levin and Skidmore both initially playing percussion instruments, until Skidmore trills and snorts out the extended exposition on sax, confirms that in 1977 he was still exploring new sounds and methods. Dunmall, slightly younger than Skidmore, but whose style comes out of Coltrane as well, is emboldened by the backing of long-time associates Levin and bassist Paul Rogers on 1985's Modal Tonic. The friendly battle includes a roistering drum detonation, features enough ferocious reed bites, wide cadenzas and soaring squeaks to satisfy any Postmodern sax fancier and climaxes with a distinctive a cappella face off with each saxist vying to outdo the other in invention. Leapfrog to 2019 and another rhythm section backs Skidmore, tenor saxophonists Ed Jones, Howard Cottle, other Trane interpreters during more than 30 minutes of intense deconstruction of two Coltrane classics. Energetic, with pianist Steve Melling's dynamic note clipping spurring them on, dynamic motions define each player's soloing until all reach the heights of near sonic ecstasy while maintaining the tunes' thematic nubs.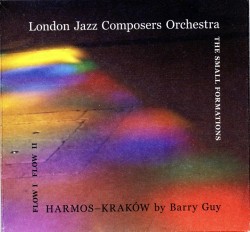 Taking place over three days in Kraków rather than multiple decades, The Small Group Formations (NotTwo MW 1027-2 Nottwo.com) is a slightly misnamed six-CD set celebrating the 50th anniversary of bassist Barry Guy's London Jazz Composers Orchestra (LJCO). Consisting of 17 musicians from Switzerland, Spain, Germany, Norway, France and the UK, the first four discs showcase the dazzling and intricate styles of individual LJCO members in formations ranging from duos to sextets, while the final discs are full-band performances of Guy's compositions, Flow I and Flow II and Harmos–Kraków. Especially on the latter piece, singular reflections such as Swiss percussionist Lucas Niggli's brace of noise makers couple with linear ruffs; German Konrad Bauer's and Brit Alan Tomlinson's bouncing flutters and portamento blasts; Spanish pianist Agustí Fernández's sly comping; and UK tenor saxophonist Simon Picard's linear routes contrasted with Swiss alto saxophonist Jürg Wickihalder's more delicate options are expressed in solo breaks that are brief but more orchestrally integrated than in the smaller formation. Harmos–Kraków is arranged with a symphonic flair, linking the leitmotifs of the initial theme statement which appear through to compositional evolution and a restatement at the climax. Plus the additional players mean that the program includes as many passages of polyphonic connective swing as miasmatic fragmentation and exuberance. Interludes include heraldic fanfares from the six-member brass section and screaming and sway group section work from the five-person reed section. There's slightly less intensity on the two Flow variations. But that's before the entire group is involved in dynamic interpretations including a reed overlay of honks and smears, shuddering brass triplets and slick piano glissandi, the piece begins as a face-off between Guy's moderated, but rugged double bass thumps and slaps and stunning string bending from violinist Phil Wachsmann involving whiny spiccato runs, pizzicato plucks and picking and a brief hoedown pivot. Overall, the set provides a complete LJCO sound picture in micro and macro forms.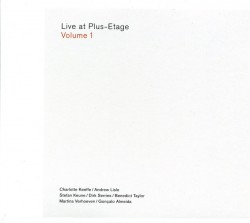 Similar instrumental virtuosity, but expressed in a minimalist fashion, is what distinguishes next generation improvisers from those of the LJCO as the three-CD set Live at Plus-Etage Volume 1 (New Wave of Jazz nwoj 0060 newwaveofjazz.bandcamp.com/album/live-at-plusetage-volume-1) demonstrates. The duos of trumpeter/flugelhornist Charlotte Keeffe and drummer Andrew Lisle from the UK; double bassists Martina Verhoeven from Belgum and Portuguese Gonçalo Almeida; and the trio of Belgian guitarist Dirk Serries, UK violist Benedict Taylor and German saxophonist Stefan Keune show that collaborating improvisers are as international as always and with one CD for each configuration, all have space to display what they can do. Except for an unaccompanied interlude of cymbal vibrations and drum rumbles during the second and concluding set Lisle mostly limits himself to claves-like resonations, bass drum plops and rim shots accents. That way the figurative spotlight shines on Keeffe's brass prestidigitation. Emphasizing non-valve movement breaths, broken-chord smears, aviary-like peeps, throaty squalls and tremolo brassiness her spikey asides don't preclude portamento affiliation however. As much as her tongue jujutsu, swerves and swallows exposing usually unexplored inner portions of her horn's lead pipe for unexpected tone variations each time sections are repeated, passages of near-lyrical melodies and feathery brassiness are also heard. Vaguely related to the William Tell Overture, a riff that gallops through her improvised variations during the first set is sounded again before the concert is completed adding a connective leitmotif. Contrasting arco and pizzicato techniques characterize the Verhoeven/Almeida single track as they constantly switch roles with buzzing spiccato tones from whistling screams to woody rubs met with repeated strums and lowing stops that sometimes approximate a washtub bass' single-string thud. More sophisticated than that primitivism, the sequences include interludes of ratcheting slices, string pops, vibration of implements placed among the strings, and heightened pressure that suggests the bow is cutting through the instrument's wood finish. During the penultimate section bell shakes and ratcheting whirs add novel patterns as stropped strings expose the highest pitches and col legno pops the lowest. Eventually billowing arco strokes are heard from both, which gradually fade from staccato to connective. Interestingly enough, the two improvisations from three players seem most separated. The transformative program includes multiple instances of almost complete silence, while, except near the conclusion where Serries unleashes a string of mandolin-like twangs, the guitarist restricts himself to connective comping. Emphasis is on how Keune's often singular irregularly vibrated split tones and narrowed peeps meet Taylor's equally jagged bow slices, stops and sul tasto pressure. Although the two confront one another head on at intervals, fury among the calm is commonly given over to sequential timbral elaboration. Emphasizing melodic and rhythmic ambiguity, alternating expressions include the saxophonist's dexterous bubbling trills, tongue stops and vibrated tone scoops, while the violist's strained glissandi and squeaky rests are as distinctive as they are numerous. Preceding and expanding on the guitarist's one showcase, linear advancement is emphasized in a climatic motif as pointed string scrubs, reed whorls and finger-style guitar chords are patched together.
Sometimes exemplary creativity must be expressed in larger than usual forms and these multiple sets prove that truism.