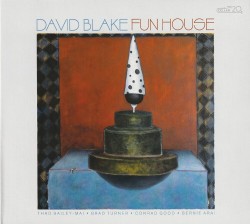 David Blake – Fun House
David Blake; Thad Bailey-Mai; Brad Turner; Conrad Good; Bernie Arai
Cellar Music CM101521 (cellarlive.com)
There is a unique vibe present in Canadian jazz music that sets it apart from the goings on south of the 49th parallel and in other continents. Guitar might be the most distinctive example of this sound, conjuring up names like Ed Bickert, Lenny Breau and Nelson Symonds. All were influenced by the American fathers of this music, but they managed to never sound starkly beholden to the tradition.
The aforementioned three guitarists spent most of their time in the eastern half of Canada, but Western Canada's largest city currently boasts some outstanding players too. Enter David Blake. A Vancouver native currently living in New York City, Blake shows off his tasteful modern playing and composing on his latest release Fun House. It is well worth noting that this recording is tracked, mixed and mastered by another great Vancouver guitarist, David Sikula.
An enthralling artsy photo of Blake lies inside of Fun House's digipak for anyone who's purchased it in CD form, and to me it was almost a surprise to see the guitarist holding a traditional looking archtop jazz guitar. The tones heard on these nine tracks are quite modern, but blurred lines are a theme heard throughout. Jon, No Jon and Devil Stick are both rhythmically labyrinthine despite being grooving and fun, while the two tracks that follow could be described as ballad-like.
Blake treats Strayhorn's classic The Single Petal of a Rose beautifully as an a cappella number, and after repeated listening this writer can't quite tell what sort of ambient pedal effects are present.
"Fun indeed" was a note I took upon first hearing this recording, and that's a perfect way to describe the multitude of dimensions Fun House provides its listeners.