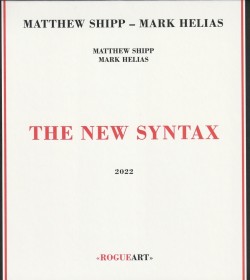 The New Syntax
Matthew Shipp; Mark Helias
RogueArt ROG-0124 (roguart.com)
Pianist Matthew Shipp and bassist Mark Helias are distinguished veterans of the New York City free jazz community, and this program of improvised duets is the embodiment of both their craft and their commitment. The very match of their instruments might suggest a contrast between the florid and fundamental, but that couldn't be further from the reality. A few years ago, Shipp published an essay on "Black Mystery School Pianists" linking Thelonious Monk with a handful of other, mostly African-American musicians such as Randy Weston, Cecil Taylor and Andrew Hill, pointing to their rhythmic complexity and layering of harmonic systems. Shipp himself might be considered a member: here his rhythmic insistence and chorded density often conjoin with Helias to create music that's both forceful and precise. At other times, the surgical precision of Shipp's runs can suggest Bud Powell.
Even gentler passages are often arrived at through passages of combined rhythmic force, witness Psychic Ladder or Acoustic Electric, in which taut figures give way to a spare lyricism. Conversely, Bridge to Loka moves from random dialogue to rhythmic unison. The effect can resemble shifting weather patterns, sunshine breaking through storm clouds and vice versa. The most lyrical moments, like The Mystic Garden, arise when Shipp's melodic probes combine with Helias's arco passages in a cello register, while The New Syntax has the two matching one another's patterns so closely that they might be reading a score. It's music that's as consistently rewarding as it is demanding.