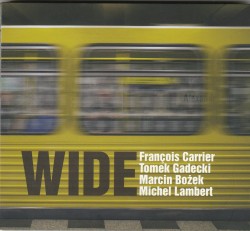 Wide
François Carrier; Tomek Gadecki; Marcin Bozek; Michel Lambert
FMR Records FMRCD556 (fmr-records.com)
When opening the CD case containing my copy of Wide for the first time, a piece of what I assumed to be packaging dropped out. Upon further inspection, this hand-ripped offering was not wrapping (though it resembles part of an envelope), rather it was a sort of calling card for ColyaKooMusic, the co-production and publishing outfit François Carrier created in 1994. This well-designed paper, with its quirky and compelling hand-stamped insignia, is a harbinger of what's to come on the rest of the album.
Before my first listen, I was next intrigued by the disc being over 64 minutes long and containing just three tracks. This may be alarming to a listener expecting a bevy of jazz standards or bite-sized original compositions, but anyone familiar with the playing of Carrier and Michel Lambert, or their Polish bandmates Tomek Gadecki and Marcin Bozek, will know to expect bold and spontaneous improvisation. The album does not disappoint!
During this COVID-19 pandemic I am self-isolating with my mother, who was quick to raise an eyebrow when I first played the disc. Her response is not an unsurprising one, given the dense and at times chaotic improvising one hears frequently throughout the album, but it is upon listening to this recording as a whole that one notices the sensitive arcs these masterful musicians are able to create while improvising freely.