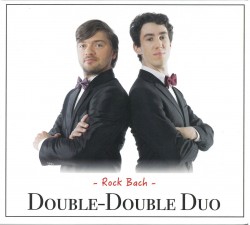 Rock Bach
Double-Double Duo
Independent (doubledoubleduo.com)
Think and listen before you make any assumptions about the musical combination of accordion and clarinet. Double-Double Duo is more than a sweet sugary sound. The imaginative musical mastery, unorthodox arrangements/transcriptions and tight ensemble playing of accordionist/pianist Michael Bridge and clarinettist/pianist Kornel Wolak stretches boundaries in both the acoustic and electronic realms in this release featuring works from their live concert repertoire.
The Brahms Rondo alla Zingarese is a more traditional transcription and exciting performance. In contrast, the four Scarlatti keyboard sonatas are given an eclectic transcription with the clarinet leading the contrapuntal lines and the free bass accordion offering harmonic and contrapuntal support. The title track Rock Bach is a musical stretch as J.S. Bach's baroque style is shoved into modern-day sound machinations, complete with drum-kit crashes from the Roland electronic accordion. One may wonder what happened to the accordion in Petit Fleur (Bechet) and Flying Home (Goodman), as a flip of a switch and press of a button have Bridge's Roland accordion emulate guitars, drums, keyboards etc. while Wolak wails through his clarinet leads. A traditional Bulgarian piece and Vivaldi's Summer complete the package.
Kudos for taking risks with listener favourites – one may not like the sound but there is so much care, energy, compassion and knowledge of divergent styles that their ideas must be respected. Detailed liner notes and more than the 35 minutes of music included here would be appreciated though. Looking forward to the next "refill" release!