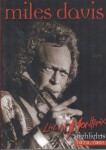 Miles Davis - Live at Montreux 1973-1991
Miles Davis
Eagle Eye Media EE391949
The pleasing shock of seeing jazz genius Miles Davis up close and personal at Montreux in 1973 in striking colour – lip-licking in splendid white jacket, huge Afro, big shades, glittering vest, blue cravat – is matched by the misery of seeing him 18 years later on the same Swiss stage – frail, old, downcast, positively drab in demeanour with playing to match.
All of which makes this DVD, drawn from the archives that generated a 20-CD release in 2002, a valuable document indeed. On the 10 long tracks no line-up is the same, no line-up featured ever recorded in a studio, there's no remixing, no editing.
Mind you, the lead-up is odd. With roadies on stage there's around two minutes of shuffling, hints of percussion, an anonymous squawk. A minute later staccato trumpet sounds and instrument fiddling. At six, signs there may be a band at work. All is forgotten when the group, a youthful Dave Liebman on soprano sax and Al Foster drumming, rumbles into action for a very lengthy improv on Ife, Miles conjuring sounds with horn and wah-wah pedal from his recent groundbreaking offerings on seminal albums "Bitches Brew" and "In A Silent Way," using nods and hand signs to instruct sidemen, dabbling on Yamaha organ and creating ethereal magic over a four-note bass riff.
It's good, enhanced by the superb, superior visual clarity that easily captures the sweat on the master's face. Davis retired for six years in 1975 through ill-health but returned to Montreux in 1984 dressed in a sort of white sailor suit with Bob Berg on soprano and guitarist John Scofield. His trumpet was in fine shape, at times ferocious, on Speak: That's What Happened. 1985 had similar personnel save for stiff-armed Vince Wilburn, Davis' nephew, on drums, quickly followed in 1986 with banks of synths, alto sax smoothie David Sanborn actually blowing hard and young guitarist Robben Ford thrashing blue notes on Jean-Pierre as the master delivered clean, quick lines. The next year's Heavy Metal Prelude was a tedious vehicle for percussionist Marilyn Mazur but alto Kenny Garrett was there and in 1989 for a potent big bass punch courtesy of Foley McCreary and tenor Rick Margitza on Jo Jo. 1990's Hannibal had fetching, understated Davis and raging Garrett.
The gloomy 1991 takes three months before Davis' death originated in "Sketches Of Spain" (The Pan Piper, Solea ) with over-packed stage and music collapsing into cacophony. It was hardly a fitting epitaph for a life of musical influence and revolution, whose constant was change and whose indelible mark will forever be clear on bop, cool jazz, modal jazz, electric jazz, funk and jazz fusion. The disc, however, is a must-have.