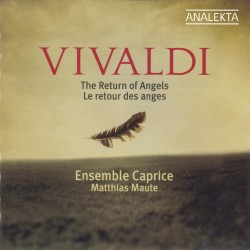 Vivaldi - Return of Angels
Ensemble Caprice; Matthias Maute
Analekta AN 2 9995
This CD builds on Ensemble Caprice's first recording of Vivaldi's sacred music, Gloria! Vivaldi and his Angels. Once again, we are transported into the confines of the Ospedale della Pietà, the orphanage where Vivaldi taught orphaned girls violin and singing, and composed concertos and sacred music.
Vivaldi's charges enjoyed great fame throughout Europe, a fact made even more amazing by the thoroughly demanding quality of the compositions. Listeners even included the English traveler Edward Wright, who states that the girls "have a eunuch for a master, and he composes their music!" It is a unique description of Vivaldi!
Ten lady singers are assembled by Matthias Maute; not a male voice is to be heard even though the opening "Coro" from Juditha Triumphans is inspired by a military theme. Less warlike are the "Coro O quam vaga" and the aria "Armatae, face" (both sung with distinction by Shannon Mercer).
Other soloists make their mark: Laura Pudwell, contralto, in Si Fulgida, and Gabriele Hierdeis in the motet O qui coeli terraeque serenitas. Also on the CD, perhaps strangely, are two pieces by Zelenka (the soloists Mercer and Pudwell once again) and even two concertos by Vivaldi; perhaps it was Vivaldi's custom to spare the voices of his charges from over-exposure and Maute is following suit.
In fact, the Ensemble's interpretations, solo or otherwise, present a spiritual and intense selection of Vivaldi's compositions for his orphaned girls. This reviewer looks forward to a third CD.