On Viola Borealis the outstanding violist Marina Thibeault explores musical links between several northern cultures. Nicolas Ellis conducts Montreal's Orchestre de l'Agora (ATMA Classique ACD2 2811 atmaclassique.com/en).
The main work here is the striking 2016 Viola Concerto by Lithuanian composer Pēteris Vasks. Thibeault gave the North American premiere in 2019, Vasks calling her playing "truly excellent – she has captured my message." High praise indeed, and fully warranted.
Reckoning was originally a series of six improvisations for violin with pedal effects by the Anishinaabe composer Melody McKiver. Two brief sections from a transcription for solo viola are included here, with harmonics and bowing techniques replacing the electronic effects.
A spirited performance of Telemann's Viola Concerto in G Major, generally considered to be the first ever written for the instrument, completes a fine CD.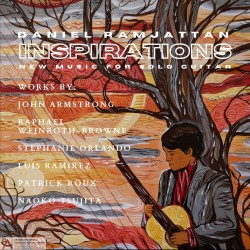 On Inspirations: New Music for Solo Guitar the Toronto-based classical guitarist Daniel Ramjattan presents a recital of works by composers based in Canada, played on a seven-string left-handed guitar (danielramjattan.bandcamp.com).
Patrick Roux's lovely Valse Vertigo is from 1994, but the other five works were all written between 2012 and 2020. John Gordon Armstrong's Five Inspirations from 2018 opens the disc, and is one of three premiere recordings here, the others being Stephanie Orlando's Soon (2020) and Luis Ramirez's Singularity (for guitar and audio) from 2019. The Gamelan Suite was written by Ramjattan's wife Naoko Tsujita in 2019; the CD closes with the really attractive four-movement Catharsis, written by cellist/composer Raphael Weinroth-Browne in 2012.
There's beautifully clean playing from Ramjattan, perfectly captured at The Church of St. Mary Magdalene, Toronto, by guitarist Drew Henderson, whose recording, mixing and mastering is, as always, simply as good as it gets.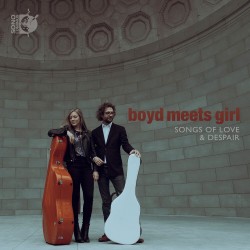 boyd meets girl: Songs of Love & Despair is the second duo album from the husband-and-wife team of American cellist Laura Metcalf and Australian guitarist Rupert Boyd; the first was reviewed here in September 2017 (Sono Luminus DSL-92255 sonoluminus.com).
It's another project born in the COVID-19 lockdown, and includes five of their own arrangements: Debussy's Arabesque No.1; Florence Price's The Deserted Garden; Beyoncé's Pray You Catch Me (with vocalise); Radiohead's Daydreaming (with extended techniques); and Paul McCartney's Blackbird. Eleanor Rigby is here too, as are Schubert's Gretchen am Spinnrade (with lovely guitar work) and Boccherini's Sonata in A Major.
Robert Beaser's Mountain Songs features four of his set of eight Appalachian folk tunes, and there are world-premiere recordings of two terrific new works – Marián Budoš' A New York Minute and Paul Brantley's Filles de l'Élysée. Messiaen's Praise to the Eternity of Jesus, from his Quatuor de la fin du temps, completes another delightful disc, full of warmth and top-notch playing.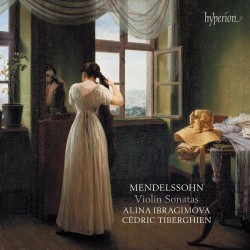 The electrifying duo of violinist Alina Ibragimova and pianist Cédric Tiberghien is back with another superb recital on Mendelssohn Violin Sonatas (Hyperion CDA68322 hyperion-records.co.uk/dc.asp?dc=D_CDA68322).
While only the Beethoven-influenced Sonata in F Minor Op.4 from 1823 was published, three others remained in manuscript: the Sonata in F Major MWV Q7 from 1820; the single-movement fragment Sonata in D MWV Q18 from the late 1820s; and the substantial Sonata in F Major MWV Q26 from 1838, intended for Ferdinand David. Mendelssohn left an unfinished revision of the first movement of the latter work, with the 2009 bicentenary published edition containing both versions; the original is used here.
Mendelssohn was an excellent violinist, so it is no surprise that these are much more than merely competent works. Ibragimova and Tiberghien are as good as ever, with terrific ensemble playing and technical brilliance, especially in the typically dazzling scherzo-like finales.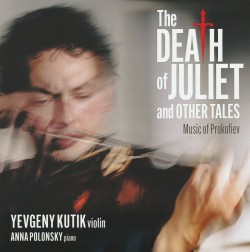 On The Death of Juliet and Other Tales: Music of Prokofiev violinist Yevgeny Kutik presents a recital inspired by his teacher Roman Totenberg's story of a chance encounter with Prokofiev in a Paris nightclub, and reflecting Kutik's belief that Russian folklore imbues all of Prokofiev's music. The pianist is Anna Polonsky (Marquis MAR623 marquisclassics.com/index.html).
Arrangements of five Russian folk melodies commissioned specifically for the album – three for solo violin (including Kalinka) and two with piano (including Song of the Volga Boatmen) – are built around two Prokofiev works: the exquisite Parting Scene and Death of Juliet from Romeo and Juliet and the Sonata in D Major for Solo Violin Op.115, the latter given a fascinating reading with a much freer opening Moderato than you normally hear. The Violin Sonata No.2 in D Major Op.94bis closes the disc.
Kutik has a gorgeous tone and a great feel for line and phrase, and is ably supported by Polonsky.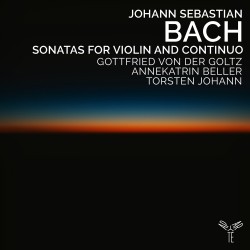 Gottfried van der Goltz is the violinist on Johann Sebastian Bach Sonatas for Violin and Continuo, with excellent support from cellist Annekatrin Beller and harpsichordist Torsten Johann (Aparte AP276 apartemusic.com/?lang=en).
Note: these are not the six sonatas for violin and keyboard, but works from what Goltz calls the "grey area" of Bach's catalogue – compositions, sometimes difficult to authenticate, that were described in vague terms and mostly scattered after Bach's death.
Four works here are presented as authentic, although it looks as if the Gavotte in G Minor should also have been: the Sonata in G Major BWV1021, preserved in a score written by Bach and his wife Anna Magdalena; the Sonata in E Minor BWV1023; the Sonata in C Minor BWV1024 (although the attribution is disputed); and the Fugue in G Minor BWV1026. The Sonata in A Major BWV Anh.II 153 is almost certainly by Georg Philipp Telemann, and the Sonata in C Minor from around 1720 is listed as "Anonymous."
The question of authenticity, however, never detracts from a quite superb and beautifully recorded recital of terrific Baroque music.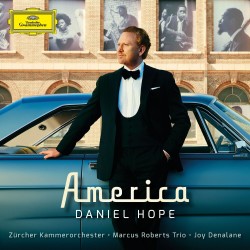 On Daniel Hope – America the violinist explores America's musical heritage in new arrangements by Paul Bateman (Deutsche Grammophon140049 deutschegrammophon.com/en/artists/danielhope).
Most of the tracks are for violin and string orchestra, featuring the Zürcher Kammerorchester in the five-piece Gershwin Song Suite, selections from Bernstein's West Side Story, Florence Price's Adoration, Copland's Long Time Ago, At the River and Hoedown, Kurt Weill's September Song, My Ship, Speak Low and Mack the Knife, Duke Ellington's Come Sunday and Samuel Ward's America the Beautiful. The Marcus Roberts jazz piano trio joins Hope for the Gershwin, and jazz singer Joy Denalone and pianist Sylvia Thereza are the collaborators on Sam Cooke's A Change Is Gonna Come.
The effectiveness of the arrangements varies, but as usual Hope is in great form and perfectly at ease in this style of music.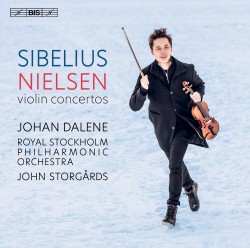 The young Norwegian violinist Johan Dalene, winner of the 2019 Carl Nielsen Competition follows up last year's first recital disc with an outstanding concerto CD with Sibelius Nielsen Violin Concertos, with the Royal Stockholm Philharmonic Orchestra under John Storgårds (BIS-2620 bis.se).
The composers were both born in 1865 and were excellent violinists, but their concertos, while written within seven years of each other, are markedly different in style. The Sibelius Concerto in D Minor Op.47 from 1904 is in the traditional three-movement form, while Nielsen's Concerto Op.33 from 1911 is in two movements, each with slow and fast sections.
Dalene has a bright but not huge tone and technique to burn, and puts a quite individual stamp on both works, always sensitive in the Nielsen and simply dancing through the upper register challenges in the Sibelius.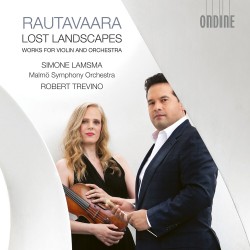 The final four orchestral works of Finnish composer Einojuhani Rautavaara (1928-2016) are presented on Lost Landscapes: Works for Violin and Orchestra, a really sumptuous CD featuring violinist Simone Lamsma and the Malmö Symphony Orchestra under Robert Trevino (Ondine ODE 1405-2 naxosdirect.com/search/ode+1405-2).
The beautiful Fantasia from 2015 was written for violinist Anne Akiko Meyers. Deux Sérénades was written in 2016 at the request of Hilary Hahn; the second movement was left unfinished at the composer's death, with the orchestration completed by Rautavaara's 1970s student Kalevi Aho in 2018.
The four-movement Lost Landscapes, a revisiting of locations that were important to the composer in his youth was originally a 2005 violin and piano work for Midori, adapted by Rautavaara for violin and string orchestra in 2013-14. Simone Lamsma was the soloist at the full premiere in Malmö in 2021. Lost Landscapes is a world-premiere recording, as is the short orchestral piece In the Beginning from 2015.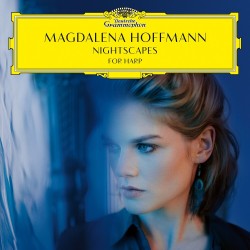 The modern concert harp weighs about 40 kilos, has 47 strings and seven pedals used to raise their pitch, and requires foot as well as manual dexterity, all of which makes the beautifully nuanced and virtuosic performances by Magdalena Hoffmann on Nightscapes for Harp, her debut album on the DG label, all the more remarkable (Deutsche Grammophon 4861724 deutschegrammophon.com/en/artists/magdalena-hoffmann).
Both original works and piano pieces transcribed by Hoffmann are featured in a delightful recital. Britten's Suite in C Major Op.83 with its Notturno middle movement is the central work in a program that includes Notturno movements by Respighi and Clara Schumann, two Nocturnes by John Field, a Nocturne and three Waltzes by Chopin, Pizzetti's Sogno and the Nocturne for Left Hand Alone by the American jazz pianist Fred Hersch.
For pure wow factor, though, the Danse des Lutins by the French harpist Henriette Renié, Marcel Tournier's La danse du Moujik and Jean-Michel Damase's Fantaisie on Tales of Hoffmann are simply stunning.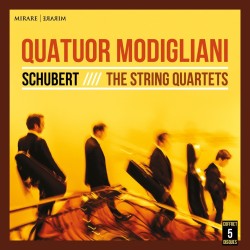 Schubert wrote string quartets for almost his entire life, with 15 surviving works composed between 1810 or 1811, when he was 13 or 14, and 1826, less than two years before his death; at least another four or five are lost. The complete canon is available in a new 5CD box set of Schubert – The String Quartets in immensely satisfying performances by the Quatuor Modigliani (Mirare MIR588 mirare.fr/catalogue).
The quartets are creatively grouped in threes with a common thread, the five volumes being labelled Harmony, The Art of Song, The Classical Spirit, Sentiments of the Soul and Light and Shadow. Melissa Khong's excellent booklet essay and the generous spacing between the tracks add to an excellent release.
The Spanish composer Ruperto Chapí (1851-1909), known essentially as a composer of zarzuelas, only became interested in chamber music late in life, starting his four string quartets in 1903. The last two of them are featured in performances by the Cuarteto Latinoamericano on Ruperto Chapí String Quartets 3 & 4 (Sono Luminus DSL-92254 sonoluminus.com).
There had been virtually no Spanish string quartet music, ensembles or societies in the 75 years preceding 1901, when the Sociédad Filarmónica and the Cuarteto Francés were both founded in Madrid. Chapí's third and fourth quartets were premiered by the Cuarteto Francés in 1905 and 1907 respectively.
Described as brilliantly funnelling the colour of the zarzuela into the string quartet genre, they are attractive, substantial and well-written works that present frequent technical challenges to the performers. The Cuarteto Latinoamericano, founded in Mexico in 1982, is in its element here in full-blooded performances.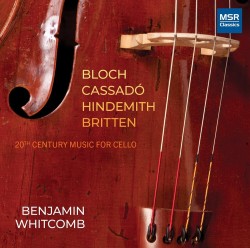 On his second volume of 20th Century Music for Cello cellist Benjamin Whitcomb gives solid performances of four works for the solo instrument (MSR Classics MA 1798 msrcd.com).
The works are Hindemith's 1922 Cello Sonata Op.25 No.3, Ernest Bloch's 1956 Suite No.1, Gaspar Cassadó's 1926 Suite for Solo Cello and Britten's Suite No.2 Op.80 from 1967.
Whitcomb has a broad, rather strident tone that tends to lack warmth at times in these competent readings, although there's the occasional moment – especially in the Cassadó – where the intonation seems somewhat less than secure.