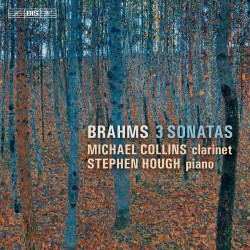 Brahms – 3 Sonatas
Michael Collins; Stephen Hough
BIS BIS-2557 (bis.se)
Here with You – The Brahms Sonatas; Weber – Grand Duo; Montgomery – Peace
Anthony McGill; Gloria Chien
Cedille CDR 900000 207 (cedillerecords.org)
No longer, it seems, is it enough for clarinetists to throw down their hottest take on Brahms' majestic Opus 120 Sonatas for Piano and Clarinet on its own. If recent examples are anything to go by, something more is now called for, a sidecar offering some alternate musical perspective. Last year, for example, the recording released by Jörg Widman and Andras Schiff included Widman's own Brahmsian Intermezzi for piano. This month, two more collaborations do something similar: Anthony McGill and Gloria Chien perform Opus 120 and then add Weber's Grand Duo Concertant, Opus 48, and Peace, by Jessie Montgomery; meanwhile Michael Collins and Stephen Hough open with a transcription (at pitch!) of Brahms' Opus 100 Violin Sonata in A Major and then move on to Opus 120.
I'm never fond of poached repertoire, but I admit the violin sonata feels like it could easily have been written for the clarinetist, Richard Muehlfeld, as the Opus 120 were. Only when Collins extends the range to the higher reaches do I think Brahms wouldn't have offered Muehlfeld that opportunity to suffer. Not that there's anything wrong with Collins' technique; he deals quite beautifully with the higher tessitura of the violin piece. It's just uncharacteristic, un-Brahmsian per his treatment of the clarinet elsewhere.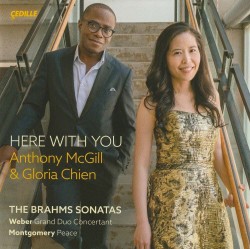 McGill and Chien, presenting the late Classical/early Romantic Carl Maria von Weber's tour-de-force, arguably made the more conservative decision, but I prefer it because it proposes an unexpected comparison of the two composers. Brahms can be a tad wordy, like some reviewers I might name. Weber is seriously underappreciated, and deserves a good deal more respect than he's been afforded in the past century.
McGill sounds fabulous; Chien wrings, and rings, out the mittfuls of Brahms' piano writing. In the Weber, avoided by some pianists on account of its dastardly technical demands, she bats no eyes and crosses no fingers; in short, she kicks the piece into gear and roars away. We should all be so lucky to play the piece with her! The Grand Duo is a dessert, which leavens out the weighty Brahms, and is so much more Romantic: more fun and, I'll admit it, entertaining. The slow movement is an arioso without words, beautifully rendered by the tandem. The presto playout of the Rondo movement is a rousing display of music hall bravura; see if you don't rise at the end to give them a standing ovation.
Collins plays a somewhat brighter set-up than McGill, and sounds great. Then there's Stephen Hough, who is already in the pantheon. His work on the three sonatas is impeccable, considered and moving. Collins and Hough hew to a steadier, faster pulse than the Americans, whose fluid flexibility appeals to me but might bother some. McGill and Chien are too indulgent during the Sostenuto section of the Second Sonata's second movement, which plods. Collins and Hough have more the right idea. And in Hough's hands the Andante un poco adagio from the F-Minor Sonata receives more lingering affection than Chien seems willing to spend. Both clarinetists' pitch is immaculate throughout. There is so much to appreciate in both offerings, choosing between them is not recommended.
Last month I proposed a new artistic genre: Responses to the Pandemic. Montgomery's Peace is exactly such a work. The mood is pensive, opening with augmented, searching harmonies, insistent but not harsh dissonance that hints at kindness or obscured joy. McGill has an incredible range of colour and depth in his low register, which Montgomery exploits with heart and soul.