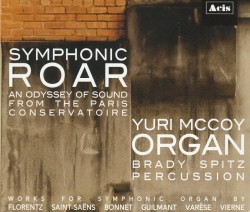 Symphonic Roar – An Odyssey of Sound from the Paris Conservatoire
Yuri McCoy; Brady Spitz
Acis APL92957 (acisproductions.com)
Inspired by French composers' exploitation of the organ's myriad multicoloured sonorities in these "symphonic" works, Houston-based Yuri McCoy says he feels "free to orchestrate… in many different ways," often making "many more registration changes than indicated in the score." (As for the "roar," wait for it!)
McCoy and console assistant Grant Wareham collaborate in Jean-Louis Florentz's Poème Symphonique "La Croix du Sud" (2000), named for the constellation. With influences from Florentz's teacher Messiaen, and Tuareg and Sufi music, it growls, chirps and surges around disquieting interludes that conjure mysterious, desolate landscapes.
A noble central anthem illuminates the celebratory Allegro Vivace from Felix Alexandre Guilmant's Organ Sonata No.2 (1862). Joseph Bonnet's brief Elfes from his 12 Pièces (1910) is a gossamer swirl of shimmering light, rendered in sound. Fantaisie, Op.101 (1895) by Camille Saint-Saëns comprises a murmuring, gentle andantino, a tempestuous fuga and a calm, reassuring finale. Clair de Lune from Louis Vierne's 24 Pièces, Suite No.2 (1926) paints a secluded nocturnal scene in muted pastel watercolour.
At nearly 28 minutes, the CD's longest and most "symphonic" entry is a remarkably effective arrangement by McCoy and percussionist Brady Spitz of Edgard Varèse's Amériques (1921), the original version requiring 27 woodwinds, 29 brass and an immense percussion battery. Collin Boothby assists McCoy on organ and Spitz on percussion, employing all of Varèse's noisemakers – lion's roar (!), siren, rattles, cyclone and steamboat whistles, etc., etc.
Fascinating listening, from mystery-laden start to roaring finish!