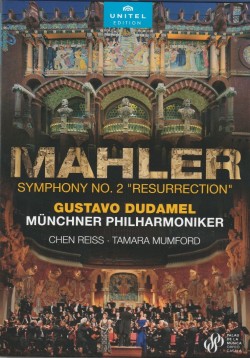 Mahler – Symphony No.2 "Resurrection"
Chen Reiss; Tamara Mumford; Münchner Philharmoniker; Gustavo Dudamel
Unitel Edition 802808 (naxosdirect.com)
Filmed in Barcelona's incredibly ornate Palau de la Música Catalana, this DVD commemorates a singular performance of Mahler's "Resurrection" Symphony presented on June 27, 2019. Mahler envisioned this massive work as a sequel to his first symphony, though it took an unusually long time by his standards to complete. It opens with an epic funeral march, originally a freestanding tone poem titled Totenfeier (Funeral Rites) from 1888. Following a pause (Mahler stipulated a seldom observed five full minutes), the lighter second and third movements provide a striking contrast to the extreme tension of what has gone before; the second is a genial, folksy Ländler while the third is a darkly ironic Scherzo. Dudamel's direction here is stylish, supple and very Viennese. Things take a truly cosmic turn in the finale of the work (conceived in 1894) with the appearance of mezzo-soprano Tamara Mumford introducing her emotive Ulricht vocal solo, setting the stage for a truly cataclysmic conclusion which storms the gates of heaven itself in a riveting performance featuring the multiple choirs (situated some three stories above the orchestra on either side of a sadly non-functioning organ), thunderous brass passages both on stage and off and the soaring exhortations of soprano Chen Reiss, all united in a thrilling promise of a life beyond death.
The crack video team employs a phalanx of six cameras, with many shots resorting to extreme close-ups, as the stage is crammed with over 100 musicians and an audience of some 2,000 rapt souls in attendance. The sound is quite vibrant owing to the many ceramic and glass surfaces of the venue. The Munich Philharmonic plays tremendously well and, most impressively, Dudamel conducts the entire 90-minute performance from memory! It's quite the occasion, and a celebration that we shall not likely see again for quite some time.