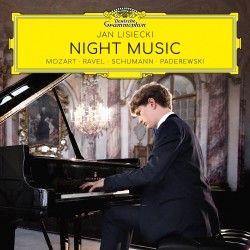 Night Music
Jan Lisiecki
Deutsche Grammophon (deutschegrammophon.com/en/catalogue/products/night-music-jan-lisiecki-12595)
Jan Lisiecki, the Calgary-born, RCM Glenn Gould School graduate and former Gramophone Young Artist of the Year, leans into his impressive touch, interpretative creativity and familiarity with the canon of elegant and imminently listenable piano music on this acoustically beautiful and well-executed capture of Mozart, Ravel, Schumann and Paderewski. Unlike Vladimir Horowitz, who preferred to perform recitals on Sundays at 4:00 in the afternoon, Lisiecki has programmed here a celebration of "night music," most obviously Mozart's 12 Variations in C Major on "Ah, vous dirai-je Maman," but bookending the album with the lesser-known Miscellanea, Op.16: No.4, Nocturne in B-Flat Major by Paderewski for a satisfying and sonically excellent album of an idealized and relaxed twilight listening experience.
Undoubtedly I am not the first observer to marvel at Lisiecki's obvious talent, depth of pianistic understanding and musical maturity while pointing to his young age (27!). That said, Night Music, a 2022 release on Deutsche Grammophon, does offer another welcome glimpse into an already exceptionally developed talent on today's classical concertizing stage who continues to play with the theme of night for ongoing listener delight (this release follows his two-CD set of Chopin's Complete Nocturnes). While the standout moments on this disc are many, it was Lisiecki's dynamic touch in the piano's lower register and fulsome exploration of the entire keyboard on Maurice Ravel's Gaspard de la nuit – Scarbo – (all within a single nine-minute performance) that, for me, was simultaneously the tenderest, most stentorian and impressive.