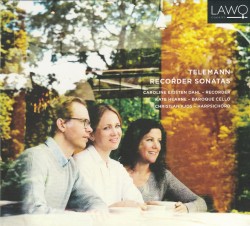 Telemann – Recorder Sonatas
Caroline Eidsten Dahl; Kate Hearne; Christian Kjos
LAWO LWC1181 (naxosdirect.com)
If virtuoso recorder playing is your thing, then Caroline Eidsten Dahl really delivers on this CD. Of the 34 movements, 18 are fast and she plays them at tempos that leave even the listener breathless! Her virtuosity is particularly extraordinary in the second movement of the Sonata in C Major, TWV41C2 and the first movement of the Sonata in C Major, TWV41C5. (BTW, C major is the perfect key for alto recorder virtuosity because of fingerings and because it lies in the middle of the instrument's two-octave range.)
To focus one's attention solely on the recorder soloist, however, is to miss much that makes this recording outstanding and Telemann's composing remarkable. The fact is that this is a collaboration by three equal musicians, and that these "solo" sonatas are in reality trios. If you focus your listening on the cello part, played by Irish cellist Kate Hearne, you can hear it, sometimes just as virtuosic as the recorder, as the lower part of a duo. And the harpsichord, played by Christian Kjos, not only fills in the harmonies implied by the other two parts, but also supplies harmonic momentum and adds sparkling melodic solos when opportunities arise.
In the short movements of these nine sonatas – the shortest is 47 seconds, the longest three and a half minutes – one can gain insight into the composer's mind, crafting each movement into a unique miniature masterpiece.
This disc offers so much, not only to recorder aficionados but also to music lovers, musicians and composers.