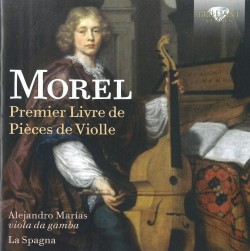 Morel – Premier Livre de Pièces de Violle
Alejandro Marias; La Spagna
Brilliant Classics 95962 (naxosdirect.com)
French composer and viola da gamba player Jacques Morel (c.1690 - c.1740)'s biography is so obscure that even the dates and places of his birth and death are unknown. Sadly, he doesn't even have a wiki page. We do know he was a pupil of Marin Marais, the composer and foremost viola da gambist of his day, to whom Morel dedicated this Premier Livre de Pièces de Violle (c.1709), his major legacy and the subject of this CD.
There hasn't been a complete recording of these suites, prompting virtuoso gambist Alejandro Marias to spearhead this project to record several of them for the first time. At the core of the album are Marias' stylish and musically secure performances of four suites from the Premier Livre for the seven-string bass viola da gamba in differing keys. The continuo parts are provided by members of the award-winning Spanish period music group La Spagna.
Morel's music is attractively varied in the best high-French Baroque tradition. Seven or eight characteristic period dance movements typically follow the emotive rubato opening prelude in each suite. Judging from this album, Morel's attractive oeuvre is imbued with his idiosyncratic voice, even though the influence of his teacher Marais' style is also present. My album picks: Suite in A minor's Sarabande l'Agréable, the Gigue à l'anglaise and the Échos de Fontainebleau in the Suite in D.
Even though long neglected, this music is full of delightful discoveries and should be better known.