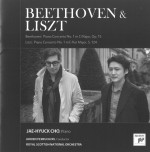 Beethoven & Liszt Piano Concerti No.1
Jae-Hyuck Cho; Royal Scottish National Orchestra; Adrien Perruchon
Sony Classical S80403C (amazon.com)
The most recent collaboration on disc between pianist Jae-Hyuck Cho and conductor Adrien Perruchon directing the Royal Scottish National Orchestra offers first piano concertos by both Liszt and Beethoven. This recording exhibits poise, candour and marked esteem for the well-worn music at hand.
Cho approaches Beethoven's youthful first piano concerto with a Haydnesque profile, achieving this with his own earnest brand of pianism, both tactile and circumspect. The lighter side of Beethoven's early period is revealed here, as is the German composer's debt to neoclassical attributes such as a Mozartian savvy for crafting melodic lines. Cho's faithful – at times predictable – reading of the score contains just enough bravura to affirm that we are experiencing a concerto.
With conductor Perruchon's background as both percussionist and bassoonist, one hears vividly planned out orchestral accompaniments, laser-precise and metrically refined. This kind of rhythmic cultivation is what Leon Fleisher so often refers to as performative "irresistibility," and Perruchon's orchestra and Cho's keyboard both seem to have it in ample measure. Crisp and carefully wrought woodwind lines squint through the textures in classical and Romantic scoring alike, with Perruchon's prizing of oboe and bassoon parts enhancing this effect.
With affectionate, palpable exchange between soloist and conductor, (especially in the Liszt concerto), this disc is also aided by a notably high standard of audio recording. Producer Michael Fine and engineer Jin Choi are to be applauded for such a balanced and crystalline achievement.
Adam Sherkin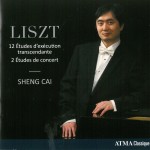 Liszt – 12 Etudes d'exécution transcendante; 2 Etudes de concert
Sheng Cai
ATMA ACD2 2783 (atmaclassique.com)
Sheng Cai is a Canadian pianist with a growing international reputation. The playing on this disc is remarkable. In Franz Liszt's 12 Transcendental Etudes (1852), what stand out are clear voicing, fine control of dynamics and a sense of expressive freedom. For example, in Paysage (No.3) pacing is flexible and there are several grades of softness. Ricordanza (No.9) opens with comparable expressiveness in movement and dynamics but on an expanding scale, meeting this longer work's more dramatic and extreme demands. In other words, Cai is fully up to the Etudes' diverse challenges! We haven't yet considered that he successfully matches such technical demands as the fearsome leaps in Mazeppa (No.4), the colouristic intricacies of Feux follets (No.5), or the tremendous approaching storm tremolos in Chasse-neige (No.12). Throughout the disc, effective groupings of pedalled notes and precise phrase cut-offs are among the ways this pianist has avoided the banging and noisiness I have heard in some well-known artists' Liszt renderings.
Through the artist we meet the composer, and I have enjoyed Liszt's humour in the characterization of the Eroica (No. 7) and the composer's artistry with what seem like painters' brush strokes in Waldesrauschen (Forest Murmurs), one of the Two Concert Etudes (1862-63) also included on this recording. Do not fear for lack of variety among all of these etudes, no two are alike and Cai makes the listening experience a distinct pleasure.
Roger Knox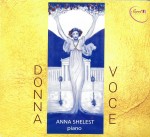 Donna Voce (Fanny Mendelssohn; Amy Beach; Clara Schumann; Cecile Chaminade; Lili Boulanger; Chia-Yu Hsu)
Anna Shelest
Sorel Classics n/a (sorelmusic.org)
It is unfortunate that to record an entire album featuring beautiful and stylistically diverse music from a well-chosen program of women composers is still, in 2019, an inherently political statement, but here we are. Unlike both piano playing and pedagogy which have long been gendered activities coded as "safe" or "acceptable" entrees into the music business for women, historically composition was seen as the realm of men. Upon occasion, as featured on the recording, some who are related to better known male figures (i.e. Fanny Mendelssohn's brother Felix and Clara Schumann's husband Robert) were allowed to "dabble" in the form, but not encouraged, nor taken particularly seriously.
Anna Shelest, a Ukraine-born pianist who graduated from Juilliard and who currently lives in New York City, is a wonderfully expressive and talented musician who unites these composers, some of whom are separated by multiple centuries, with her deft touch and clear lyricism on this Sorel Classics release. Partially, this is exploration of lost histories, in the sense that some of this music has not been given its rightful place in canon of Western art music due, undoubtedly, to antiquated views on what constituted "acceptable" activities for married women (in the case of American composer Amy Beach); patriarchally established family responsibilities that curtailed artistic practice and output (Clara Schumann) and outright sexism masquerading as musical criticism (Cécile Chaminade, who was undermined in a New York Post review of her 1908 Carnegie Hall recital that stated, in part, "on the whole this concert confirmed the conviction held by many that while women may someday vote, they will never learn to compose anything worthwhile," this recording is no mere historical exercise.
Through Shelest's clear musicality and performance prowess, Donna Voce is an extremely musical and satisfying contemporary classical release that will hopefully (and deservedly) present this collection of music, as well as Shelest's many talents, to a wide audience of listeners around the world.
Andrew Scott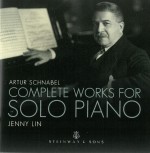 Artur Schnabel – Complete Works for Solo Piano
Jenny Lin
Steinway & Sons 30074 (steinway.com)
Some wonders will never cease, as evidenced by the latest Steinway & Sons disc of Artur Schnabel's Complete Works for Solo Piano with pianist Jenny Lin. That's right: Artur Schnabel, composer.
Amongst the great 20th-century pianists, Schnabel was the first to record the entire cycle of Beethoven sonatas, a practice now well-entrenched – and a yardstick oft' attained – by numerous keyboardists on a regular basis. But the legacy of Schnabel's pianism remains sacrosanct, as does his pedagogical lineage. So then, how well-perceived is his compositional output? Not well, it would seem. Consequently, Steinway & Sons and intrepid pianist Jenny Lin "aim to correct this imbalance of perception."
A new double album presents Schnabel's works in chronological order, an edifying curatorial decision and one that reveals the breadth of his compositional development, starting with the Three Fantasy Pieces of 1898 – written when the composer was just 16 years old – and ending in 1947 with seven austere, Webern-like miniatures.
It is in the early pieces that we glimpse a refined era of waltzes and foxtrots, elegantly wrought with an audible fondness for the Austro-Hungarian imperial ballroom. Schnabel's Dance Suite of 1920/21 is beguiling in its invitational charm and expressivity; quirky and yet intriguing in a slightly mangled mode. How delighted his audiences might have been, after hearing him stride through late Beethoven piano sonatas in recital, to finish the evening with encores of the pianist-composer's own! The Sonata of 1923 probes a darker, dissonant world. Shadowy spectres of Charles Ives seem to rush in at the resolute opening. Now far off from waltzes-of-old, Schnabel's oeuvre can proclaim a newfound dimension.
Jenny Lin is a contemporary titan of the keyboard, already boasting an impressive discography. This latest addition only reaffirms her bravery and fierce commitment to all things new and different. Possessing a truly unique pianistic skill set, Lin manages the character and style of old Europe remarkably well in this recording, considering how distant Schnabel's music sits from the sights and sounds of 2019.
Lin's singular devotion to Germanic literature, (she has an undergraduate degree in the subject), must come to bear when interpreting these pieces. There's a lingua franca here that few artists of today would comprehend and, moreover, command with such conviction. Not many could pull off a feat of one such disc, let alone two. Such accomplishment urges the question: what will she tackle next?
Adam Sherkin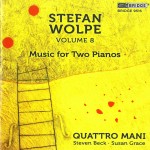 Stefan Wolpe Volume 8 – Music for Two Pianos
Quattro Mani
Bridge Records 9516 (bridgerecords.com)
German, Jew, Communist, American, activist, modernist and eminent teacher, composer Stefan Wolpe and his impressive catalogue of works should probably be better known today. Volume Eight from Bridge Records' projected complete recordings forms the most recent release to date, featuring Wolpe's music for two pianos.
This disc runs the gamut of styles, presenting Wolpe's stern and structured March and Variations and Two Studies on Basic Rows, (both from the 1930s). These works are punctuated by the Ballet Suite in Two Movements: The Man from Midian, (1942) which is filled with rousing populist gestures and extramusical inspiration. These two extremes of Wolpe's art – aptly represented and admirably executed by pianists Steven Beck and Susan Grace of Quattro Mani – lend themselves well to the dual keyboard medium.
The most arresting and remarkable work on the record, Two Studies on Basic Rows, is delivered with analytical focus and an informed musical intelligence. The complexity of the Passacaglia, (the final track on the album), is so well conceived that the brightness and fury at the heart of Wolpe's art can distinctly shine through.
The Man from Midian ballet suite serves as a welcome bit of fun – nearly 30 minutes in length – that takes the listener on a kind of mid-century musical romp through various styles, political commentary and Judaic narrative, all channelled via the mind of a relatively unknown 20th-century composer who just might have something important to tell us in our 21st-century reality.
Adam Sherkin