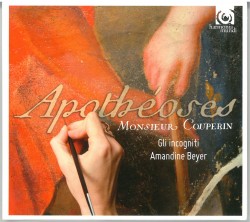 Couperin – Apothéoses
Gli Incogniti; Amandine Beyer
Harmonia Mundi HMC 902193
It is crystal clear that this recording is a labour of love and full of vibrancy and personality. The six instrumentalists of Gli Incogniti throw themselves into Couperin's music, infusing it with youthful vigour and airy spontaneity.
The program is bookended by sonatas – La Superbe and La Sultane – both played with exquisite attention to detail and "French" virtuosity, i.e. a wide vocabulary of fresh ornamentation that gives one the idea that everything is being improvised. Violinists Amandine Beyer and Alba Roca are perfectly matched and dance around each other with great subtlety. Equally impressive is the continuo team: solid as a rock and adding heft and/or tenderness where needed.
The major pieces – Couperin's Apothéoses de Lulli et Corelli – are works of tremendous scope, based on Couperin's intended philosophical desire to reunite the tastes and styles of Italian and French instrumental music. They are programmatic, multi-movement masterpieces and the performances on this disc are very fine. My only argument is with the tempos of some of the more transparent movements. There is a driving quality to the group's playing that is immensely attractive most of the time; however, some of the ethereal, transparent movements need more dreamy air and space – and could simply be slower.
Special mention must be made of the gorgeous, sensuous gamba playing of Baldomero Barciela and Filipa Meneses in La Sultane. Their performance of this sonata is worth the price of the CD alone.