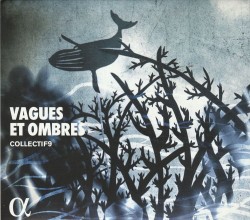 Vagues et ombres (Waves and shadows), the latest release from the Montreal string ensemble Collectif9 features music by Debussy and Canadian-American composer Luna Pearl Woolf (Alpha Classics 858 collectif9.ca/en).
The central work on the disc is Woolf's Contact, an extremely effective and fascinating piece described as "a sonic view into the underwater world of beluga whales in the St. Lawrence Estuary," including the impact of human actions.
It's the Debussy selections that steal the show, however, in quite brilliant arrangements by Thibault Bertin-Maghit, the group's bass player. Four piano pieces – Étude No.4, Des pas sur la neige, and Passepied and Clair de lune from the Suite Bergamasque open the CD, the increase in players and the resulting expansion of textures being balanced by the challenge faced in reducing Debussy's orchestral masterpiece La Mer to nine players. The latter is an astonishing reinterpretation that draws quite remarkable playing from the ensemble in music in which – as they note – timbre and colour are paramount. It's breathtakingly brilliant in all respects.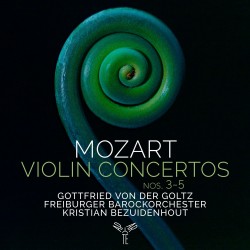 Baroque violinist Gottfried von der Goltz is the soloist on Mozart Violin Concertos Nos.3-5 with the Freiburger Barockorchester under Kristian Bezuidenhout (Aparté AP299 prestomusic.com/classical/products/9364986--mozart-violin-concertos-nos-3-5).
The three concertos – the G Major K216, the D Major K218 and the A Major K219 – are "presented in a new version: in accordance with practices of the time, Bezuidenhout improvises a pianoforte part, while conducting the orchestra… A totally new and exciting approach to these works!" Well, don't get too excited about the resulting impact – the pianoforte is almost totally inaudible, although it may well be subtly adding to the texture; if I hadn't known I would never have noticed it, except possibly in a few moments in the D Major concerto.
No matter, for these are superb performances any way you look at them, beautifully judged and balanced, with faultless solo work and orchestral playing that is full of life on one of the finest Mozart discs you will hear.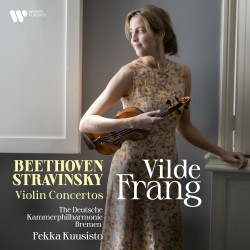 The brilliant Norwegian violinist Vilde Frang is in top form on Beethoven Stravinsky Violin Concertos, with The Deutsche Kammerphilharmonie Bremen under Pekka Kuusisto (Warner Classics 0190296676437 vildefrang.com/beethoven-stravinsky).
Kuusisto, himself a violinist makes his debut recording as a conductor, and what a debut it is, forming a perfect partnership with Frang. There's a decided chamber orchestra feel to the performance with the timpani prominent, the lengthy first movement cadenza being a transcription of the one (with timpani) that Beethoven wrote for his own piano transcription of the concerto.
Stravinsky's spiky and neoclassical Violin Concerto in D Major Op.8 isn't heard as often as it should be, the performance here underlining what we're missing. It's full of life and never merely academic, with an emotionally deep Aria II third movement.
Frang started studying both concertos at the same time in her teens, always feeling some sort of relation between the two. Certainly they make an ideal pairing on an outstanding CD.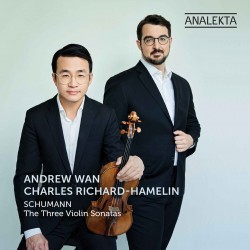 With Schumann: The Three Violin Sonatas violinist Andrew Wan and pianist Charles Richard-Hamelin continue the partnership that gave us the recent outstanding 3CD set of the complete Beethoven sonatas (Analekta AN 2 9003 analekta.com/en).
The Violin Sonatas No.1 in A Minor Op.105 and No.2 in D Minor Op.121 are from 1851, written at the suggestion of violinist Ferdinand David. The Violin Sonata No.3 in A Minor WoO27 incorporates the two movements Schumann contributed to the F-A-E sonata, the 1853 collaboration with Brahms and Albert Dietrich that was a gift for Joseph Joachim, Schumann adding a first movement and a scherzo to complete an original third sonata.
Effortlessly beautiful playing from both performers coupled with exemplary recording quality makes for another outstanding release.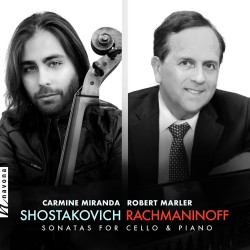 From one outstanding duo release to another: Shostakovich Rachmaninoff Sonatas for Cello & Piano finds cellist Carmine Miranda and pianist Robert Marler in superb form in two of the great cello sonatas (Navona NV6475 navonarecords.com/catalog/nv6475).
Miranda's deep, rich cello and Marler's clear, warm piano, perfectly balanced and beautifully recorded, immediately promise great things – and boy, do they deliver! Shostakovich's Cello Sonata in D Minor Op.40 from 1934 is described as a lyrical, classical work, but it still has the pain-ridden slow movement and frantic fast movements so typical of his later works.
The Rachmaninoff Cello Sonata in G Minor Op.19 from 1901 is a big Romantic work that requires a big technique from both players, its third movement Andante surely one of the most glorious movements ever written. It's hard to imagine a more gorgeous performance than this one.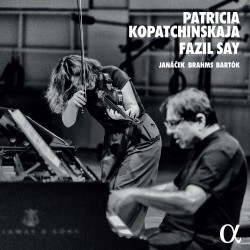 Violinist Patricia Kopatchinskaja and pianist Fazil Say have been playing together as a duo since 2004, and the close nature of their musical relationship is clearly evident in the three sonatas on Janáček Brahms Bartók (Alpha Classics ALPHA885 outhere-music.com/en/classical-music-shop/latest-releases).
The Janáček and Bartók sonatas were both completed in 1921, and both show the influence of folk music on the two composers. The Brahms work is the last of his three, the Sonata No.3 in D Minor, Op.108, completed in 1888.
Kopatchinskaja has a clear, bright tone that can sound quite light at times without ever losing strength, and the ease with which she handles the technical demands never lacks depth and conviction. Say is an equal partner in all respects on an excellent disc.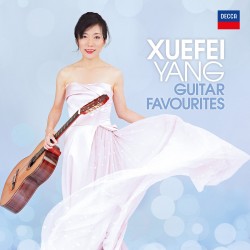 Xuefei Yang was the first Chinese guitarist to study at London's Royal Academy of Music, and the first to launch a worldwide professional career. Guitar Favourites, her latest CD, reviews her 35 years with the guitar, returning to the quintessential guitar music that first drew her under its spell (Decca 485 8195 xuefeiyang.com).
Her technique is flawless and apparently effortless, but it's what she does with it that makes this such a remarkable disc; the clarity, definition, dynamics and flowing, flexible phrasing making even the most familiar pieces sound fresh. Works include Albéniz's Asturias, Tárrega's Recuerdos de la Alhambra (with rubato!) and Capricho Árabe, Sor's Variations on a Theme by Mozart Op.9, four pieces by Augustín Barrios Mangoré including the three-part La Catedral, Yang's own Xinjiang Fantasy, the first recording of When the Birds Return by guitarist John Williams and single pieces by Rodrigo, Lauro and Villa-Lobos.
A gorgeous arrangement of Danny Boy completes a stunning recital.
A composition by the British pianist Stephen Hough opens Hough, Dutilleux & Ravel String Quartets, the latest CD from the Takács Quartet (Hyperion CDA68400 hyperion-records.co.uk/dc.asp?dc=D_CDA68400).
Hough's six-part String Quartet No.1, "Les Six rencontres" was written in 2021 specifically as a companion piece to the Dutilleux and Ravel works. It's extremely attractive, finely crafted and idiomatic writing, dedicated to the Takács Quartet and given what must be a definitive performance here.
Henri Dutilleux's Ainsi la nuit from 1973-76 began as a group of short studies in sonority, the seven linked sections creating fascinating effects and tonal colours. Again, there's superbly controlled and nuanced playing from the quartet.
A dazzling reading of Ravel's String Quartet in F Major from 1902-03 completes a terrific CD.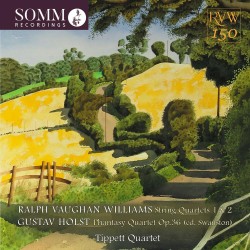 2022 saw the Tippett Quartet mark their 25th anniversary year and the 150th anniversary of Vaughan Williams' birth with Ralph Vaughan Williams & Gustav Holst String Quartets (SOMM Recordings SOMMCD 0656 somm-recordings.com/recording/vaughan-williams-holst-string-quartets).
Vaughan Williams spent the year 1907-08 studying with Ravel in Paris; his String Quartet No.1 in G Minor from 1909 showed a resulting greater textual clarity, although it remained unpublished until a revised version appeared in 1922. The viola, Vaughan Williams' own instrument, is prominent in the String Quartet No.2 in A Minor from 1942-43; the work is dedicated to Jean Stewart, violist in the Menges Quartet that gave the first performance in 1944. The beautiful Romance second movement, in particular, is Vaughan Williams at his most characteristic.
Holst wrote his Phantasy Quartet on British Folksongs Op.36 in 1916, but eventually withdrew it, feeling it to be "insufficient." His daughter Imogen published a string orchestra version some years after his death. The viola is again prominent in this charming quartet edition by Roderick Swanston.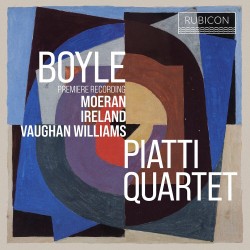 There's more Vaughan Williams on Boyle, Moeran, Ireland, Vaughan Williams, his Household Music – Three Preludes on Welsh Hymn Tunes from 1940-41 opening the new CD from the Piatti Quartet (Rubicon RCD1098 rubiconclassics.com/release/piatti-quartet-boyle-vaughan-williams-moeran-ireland).
The main work here though is the premiere recording of the lovely String Quartet in E Minor from 1934 by the unjustly neglected Irish composer Ina Boyle (1889-1967), who, apart from travelling to London for lessons with Vaughan Williams, from 1923 spent virtually her entire life in the family home in County Wicklow. This attractive work remained in manuscript until a new performing edition was made in 2011.
John Ireland's brief The Holy Boy is his 1941 arrangement of a 1913 piano solo. The disc ends with E.J. Moeran's undated two-movement String Quartet No.2 in E-flat Major, discovered in his papers after his death in 1950. The Novello edition felt it to be "clearly an early work," but while the first movement may support this view the Irish folksong nature of the second movement suggests a strong post-war influence of the songs he collected in County Kerry, some of which he published in 1948.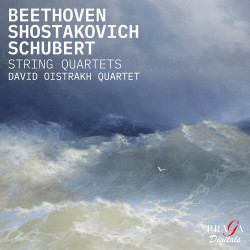 On Beethoven Shostakovich Schubert String Quartets the four Russian musicians of the David Oistrakh Quartet, all soloists in their own right, "embrace the fury of these three works" with full-blooded playing (Praga Digitals PRD250426 prestomusic.com/classical/products/9408438--beethoven-schubert-shostakovich-string-quartets).
Beethoven's String Quartet No.4 in C Minor, Op.18, if a little rushed at times, certainly shows passion, which works particularly well in the Allegro prestissimo fourth movement.
Shostakovich's String Quartet No.3 in F Major, Op.73 from 1946, is the heart of the disc, both physically and emotionally. It became known as his "war quartet" after the composer renamed the movements in the manner of a war story to avoid being accused of "formalism" or "elitism." Blythe ignorance of the future cataclysm, Rumblings of unrest and anticipation, Forces of war unleashed, In memory of the dead and The eternal question: why? and wherefore? give a clear indication of the music's soundscape.
Schubert's String Quartet No.12 in C Minor, D703 "Quartettsatz" from 1820 is the brief first movement from an unfinished quartet. The final track, not mentioned in the booklet notes, is the quartet's violist Fedor Belugin's dazzling arrangement of Paganini's Caprice Op.1 No.24 in A Minor.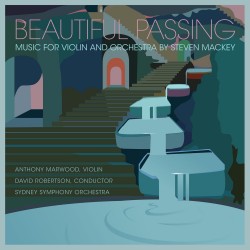 On Beautiful Passing the title track is the single-movement violin concerto written by the American composer Steven Mackey in 2008 and inspired by the death of his mother. Anthony Marwood is the soloist, with David Robertson conducting the Sydney Symphony Orchestra (Canary Classics CC-22 canaryclassics.com).
Consisting of two halves separated by a cadenza, it's a tough, uncompromising work that has passages of real beauty above and amid the sometimes-brutal orchestral texture, with a demanding and finely woven violin line brilliantly played by Marwood. It's a work that invites and will surely reward further listening.
The remainder of the CD consists of Mackey's Mnemosyne's Pool from 2014, a five-movement symphonic saga dealing with aspects of remembering, Mnemosyne being the Greek goddess of memory. Described by Musical America as "the first great American symphony of the 21st century" it's a hugely impressive orchestral canvas that receives an outstanding performance.
Mieczysław Weinberg Complete Works for Violin and Piano, Volume Four completes the series of music by the Polish-born Soviet composer and close friend of Shostakovich that began in September 2010. Yuri Kalnits is the excellent violinist and Michael Csányi-Wills the equally fine pianist (Toccata TOCC 0188 toccataclassics.com).
This final release covers music from Weinberg's teenage years – the Three Pieces from 1934-35 – to the 1959 Sonata for Two Violins Op.69, in which Kalnits is joined by Igor Yuzefovich. The Largo in F Major from 1944, only rediscovered in 2012, was originally part of the Sonata No.2 Op.15. The Two Songs without Words from 1947 and the Concertino in A Minor Op.42 from 1948, originally for violin and string orchestra, complete an excellent disc and series.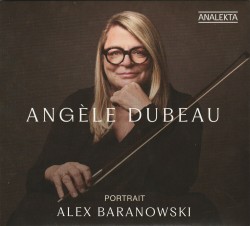 Composer Alex Baranowski is the latest subject in the Portrait series that has been so successful for violinist Angèle Dubeau and her La Pietà string ensemble (Analekta AN 2 8750 analekta.com/en).
The CD follows the usual format of short pieces and extracts arranged – in this case by the composer himself – for Dubeau's group. This collaboration was clearly a joy for composer and artist alike, Dubeau calling Wiosna, the piece she commissioned, the heart of the album, while Baranowski calls it one of the most personal pieces he's ever written.
Most of the tracks reflect Baranowski's work for screen and stage, with several extracts from the movies The Windermere Children and Nureyev, and the ballets Nineteen Eighty-Four and Kes. There's not a great deal of variety, but the beautiful writing and top-notch performances will make this a sure-fire winner with Dubeau's many fans.