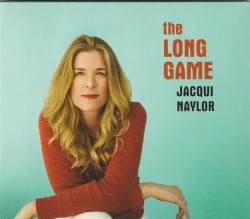 The Long Game
Jacqui Naylor
Ruby Star Records RSR-011 (jacquinaylor.com)
World-renowned native-Californian jazz vocalist Jacqui Naylor has an interesting approach to the aforementioned genre. She loves the classics but definitely brings a modern touch into her music and this interesting combination couldn't be more apparent on her newest, not to mention 11th, studio album. Featuring music by rock and pop greats such as Coldplay, David Bowie and Peter Gabriel, Naylor has lent her own unique touch to each of these songs; effectively jazzifying them in a very pleasant and listenable way. Sprinkled amongst these covers are originals penned by the diva herself, a couple of which are co-written by talented pianist Art Khu.
One piece that immediately stands out is Coldplay's Fix You; Naylor's smooth alto vocals in combination with a flowing piano melody and a subtle but poignant bass line make the song take on a slightly more melancholy and softer tone than the original version. Naylor's own I'll Be Loving You pops out; a Latin-flavoured tune that does a great job of not only showcasing another side of her musical taste but also gets the listener grooving along in their seat. A truly outstanding track is Bowie's Space Oddity, where a mellow piano line and an almost counter melody played on upright bass overlaid by chords on the Fender Rhodes make for a unique flavour given to the classic song.