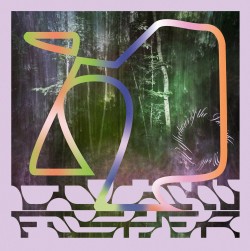 Reflections of the Invisible World
Colin Fisher
Halocline Trance HTRA017 (haloclinetrance.bandcamp.com)
Colin Fisher has been a dynamic and industrious part of the Canadian music community for 20 years. He is a multi-instrumentalist with remarkable facility on saxophone, guitar, drums, electronics and other musical objects. With Brandon Valdivia he formed Not the Wind, Not the Flag, fronts the Colin Fisher Quartet and has played in many other groups and produced solo projects like his Gardens of the Unknowing.
The new vinyl and digital-only release, Reflections of the Invisible World, is another solo project with Fisher playing guitar, saxophone and electronics. Each of the seven pieces creates its own sonic environment and the tone and architecture is determined by the structure of the electronic sounds. The guitar and saxophone performances waft amongst the walls and corridors of those sounds which are sometimes melodic, other times primarily rhythmic. Salient Charm begins with a pulsing rhythm which develops into wafting, ephemeral melodies where the saxophone is barely discernible as a colour. Double Image has a moody, noir vibe with some edgy background sounds, while Fisher's tenor saxophone plays great jazzy longer tones with just a touch of vibrato and eventually works into some full-blown wailing. It could be an updated Blade Runner soundtrack, though more experimental than Hollywood usually ventures. The sounds and shapes in Fisher's album drift between ambient and arresting with each "reflection" offering its unique glimpse of another "invisible" world.