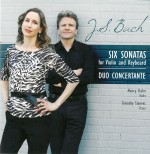 There's another lovely release from
Duo Concertante
, the Newfoundland-based husband and wife team of violinist
Nancy Dahn
and pianist
Timothy Steeves
, this time a two-CD set of
Bach's Six Sonatas for Violin and Keyboard (Marquis MAR 81521)
.
In an interview with the duo in the booklet notes, Steeves admits to having no reservations about playing Bach on the piano, given the instrument's connection with Bach's music for over 200 years. Dahn also uses a modern instrument, but notes that although they knew they were going against a trend they found that focussing on the language, harmony and style of the sonatas still enabled them to play them in a way that was historically informed.
A German press review during their recent European tour noted the beautiful balance in the Bach slow movements – on the one hand not too romantic, on the other not too austere – as well as the ease, lightness and naturalness in the fast movements; it's an observation more than justified by the performances here. There's warmth, clarity, sensitivity and empathy to spare, with crystal-clear violin lines, faultless intonation throughout the most difficult passages and a thoughtful and always sensitive piano contribution.
You tend to run out of superlatives with performances like these, and there's simply not much you can do other than sit back, listen and be carried away by the complete artistry. Suffice it to say that this is as totally satisfying an account of the sonatas as I have heard.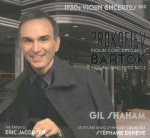 Take one of my favourite violinists – Gil Shaham; add one of the best accompanying orchestras around – the New York ensemble The Knights under Eric Jacobsen; throw in one of my favourite conductors – Stéphane Denève; and have them perform two of my favourite 20th century concertos – the Prokofiev No.2 and the Bartók No.2 – and it's not surprising that the new CD 1930s Violin Concertos Vol.2 on Shaham's own Canary Classics label (CC16) was the first one I took out of the box when this month's discs arrived.
It should also be no surprise that it more than lived up to expectations. The 1930s was a simply astonishing decade for new violin concertos, with works by Schoenberg, Stravinsky, Berg, Prokofiev, Bartók, Szymanowski, Hindemith, Barber, Britten and Walton among others. Shaham started this series with a two-CD set featuring the concertos of Barber, Berg, Britten, Hartmann and Stravinsky and is clearly intrigued by the extent to which the works reflect the spirit of a turbulent era; he has been exploring this repertoire in concert performances since the 2008/2009 season.
The Knights are the support in the Prokofiev, with Denève leading the Stuttgart Radio Symphony Orchestra in the Bartók. Shaham's trademark mixture of a warm sweet tone, faultless technical assurance and impeccable musical intelligence make for immensely satisfying interpretations of both works, and he is matched by both orchestras and conductors every step of the way.
No word yet on a Volume 3, but here's hoping.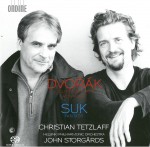 Christian Tetzlaff also has a new concerto CD pairing the Dvořák Violin Concerto in A Minor Op.53 and the Romance in F Minor Op.11 with the Fantasy in G Minor Op.24 of Josef Suk on a Super Audio CD (Ondine ODE 1279-5). John Storgårds conducts the Helsinki Philharmonic Orchestra.
Suk, who was Dvořák's son-in-law, was a topnotch violinist (and grandfather of the Czech violinist Josef Suk) who is probably best remembered as a composer for his early Serenade for Strings. His music is very much in the tradition of Smetana and Dvořák – indeed, despite stylistic differences his music often sounds very much like that of his father-in-law.
The Fantasy is a substantial single-movement work from 1903, and while attempts have often been made to view it as being in three-part concerto form it is essentially a rhapsodic and passionate work with numerous tempo changes, and one which makes great demands of the soloist.
The Dvořák concerto has never quite made itself at home in the top echelon of violin concertos, but it's an absolute charmer from the early 1880s – bright, lively, typically Dvořák throughout, and with a simply lovely slow movement. The Romance pre-dates it by several years and, much like the Beethoven works with the same name, is more about linear phrasing and clarity and beauty of tone than pure virtuosity.
Tetzlaff meets all the demands, both technical and emotional, with ease and conviction, and with passion and sensitivity, throughout a really lovely CD.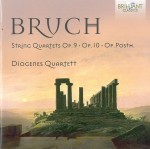 In 1852 the 14-year-old Max Bruch wrote a string quartet to apply – successfully – for the scholarship of the Mozart-Stiftung (Mozart Foundation) in Frankfurt. While musicologists researching Bruch's music knew of its existence, the work was always considered lost – until January 2013, that is, when Ulrike Kienzle, researching a book on the history of the Mozart-Stiftung, found the manuscript in a box in the foundation's archives.
The String Quartet in C Minor, Op. Posth., is an astonishingly self-assured and mature work, bursting with energy and full of flowing melodies and rich harmonies. It's the opening work on a simply outstanding CD of Max Bruch Complete String Quartets performed by the Diogenes Quartet (Brilliant Classics 95051). The String Quartets No.1 in C Minor, Op.9 (which, as it turned out, incorporated a substantial amount of material from the earlier work) and No.2 in E Major Op.10, both also early works from 1859 and 1861 respectively, complete the disc.
Not unexpectedly, the influences of Beethoven, Schubert, Mendelssohn and Schumann are plain to hear, but these are far from being mere stylistic copies, despite the composer's youth. They also remind us not only of how wonderfully gifted a composer Bruch was, but also of how little he strayed from his German Romantic roots throughout his long life.
These are rarely heard but simply beautiful works (there's that word "beautiful" in a Bruch review again) beautifully played and beautifully recorded. The Diogenes Quartet is apparently recording the complete Schubert string quartets for Brilliant Classics; I, for one, can hardly wait.
In November 1918, shortly after the end of the First World War, Arnold Schoenberg founded the Association for Private Musical Performances "to provide artists and art lovers with a real and precise familiarity with modern music" – in Alban Berg's words, "from Mahler up to now." Members frequently transcribed large orchestral works for chamber ensembles.
Max Reger, who died in 1916, seemed to be especially favoured by the group, although his music was generally regarded by the critics as being excessively long, overly chromatic, turgid and far too complicated. In fact, it's more a case of an overabundance of creative ideas making it difficult for the listener to discern the overall shape and form in Reger's music.
That's certainly true of his Violin Concerto in A Major, Op.101, completed in 1908. It's a simply huge work (almost one hour) but melodic and accessible, and very much in the post-Brahms tradition – in fact, Reger mistakenly believed that his concerto would soon become as popular as the Brahms. The German Capriccio label has been issuing a series of recordings by the Linos Ensemble of chamber transcriptions made for the Association for Private Musical Performances, and the 1922 arrangement of the Violin Concerto by the violinist Rudolf Kolisch for flute, clarinet, horn, piano, harmonium and five strings is featured on the latest volume (C5137). Winfried Rademacher is the solo violinist.
The original full orchestral version in a performance by Tanja Becker-Bender was reviewed in this column in April 2012, and it's clearly the more satisfying of the two, although the chamber version does clarify the texture to some degree as well as rendering the virtuosic solo part more playable. There have been various attempts over the years to apply cuts to the concerto, but it has retained its original length and structure – not to mention difficulty – and as a result has remained on the fringe of the repertoire.
Rademacher does full justice to the solo part, and the Linos Ensemble is excellent in this 2010 recording, apparently made for German radio. However, while the reduced forces may well help to reduce the complexity of the work they also make its more ponderous and meandering moments more apparent, and reduce the concerto's overall effect.
Still, it's an interesting alternate view of a complicated and challenging work.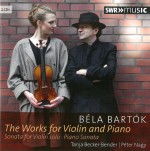 Speaking of Tanja Becker-Bender, her latest release is a two-CD set of Béla Bartók: The Works for Violin and Piano with pianist Péter Nagy (SWR 19003 CD). Each performer also takes a solo turn in the spotlight, Becker-Bender with the Sonata for Solo Violin BB124 and Nagy with the Piano Sonata BB88 from 1926.
CD1 has the two Rhapsodies for Violin and Piano and the two Sonatas for Violin and Piano. CD2, in addition to the two solo works, has the early Andante in A Major (a simply beautiful piece) and the Sonata in E Minor from 1902 and 1903 respectively, as well as the Romanian Folkdances in the transcription by Zoltán Székely, to whom the Rhapsody No.2 was dedicated. The two early works are both late Romantic in style, but everything else here clearly reflects the composer's lifelong fascination with Magyar folk music that began in 1905.
There's terrific playing from both performers, with Becker-Bender mixing toughness with the brilliance where necessary without ever compromising the interpretation. The second movement of the Rhapsody No.2, in particular, is quite superb.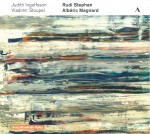 There's another outstanding violin and piano recital disc (Accentus Music ACC 303711), this time from violinist Judith Ingolfsson and pianist Vladimir Stoupel with works by the French composer Albéric Magnard and the German Rudi Stephan, both of whom were killed in the First World War. It's the first in their three-CD series Concert-Centenaire that will also feature works by Gabriel Fauré and Louis Vierne.
Magnard and Stephan were both killed in somewhat bizarre circumstances, Magnard in September 1914, when his house was burned down by the advancing German army after he had shot and fatally wounded two German soldiers – Magnard's remains were never identified – and Stephan in September 1915, when he was shot by a Russian sniper two days after his unit had moved into trenches on the Eastern Front; he was apparently the first casualty in the 900-strong unit and was only 28.
Stephan was considered to be one of Germany's leading young composers, but it's difficult to judge from this distance – his works were neglected in the 1920s and 1930s, and many of his unpublished manuscripts were destroyed in the Allied bombing raids in 1945. He is represented here by his Groteske for Violin and Piano from 1911, the manuscript for which was only discovered in 1979 in the Bavarian State Library; it's a short but really effective piece that shows the influence of pre-war Impressionism.
Only 49 when he was killed, Magnard was considered one of the greatest French composers of his era; his style owed more to Vincent d'Indy and César Franck than to Debussy. The major work on the disc is his Sonata for Violin and Piano in G Major Op.13 from 1901; it really is a very impressive piece.
Ingolfsson's playing is simply superb throughout a fascinating CD, with Stoupel providing terrific support.