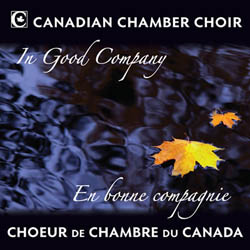 In Good Company
Canadian Chamber Choir
Independent CCCCD001
www.canadianchamberchoir.ca
The Canadian Chamber Choir, under Artistic Director Julia Davids, have aptly named their first release "In Good Company". Why? Really only a respectful musical environment can create the cohesive singing, beautiful tone, and intelligent musicality evident on this release. Even more remarkable is that this is even humanly possible considering that the members are spread across the Canada, and the group only gets together to rehearse in intense short duration workshops a few of times a year.
This all-Canadian ten composer release encompasses a variety of styles and vocal configurations. Especially glorious is Tawnie Olson's Chantez à l'Eternel for its ethereal quality. Allan Rae's Mvt #5 Allegro from Keltic Suite is a rhythmic departure from the usual lush choral sound. The hilarious Figures de danse by Lionel Daunais has the choir kicking up its heels. The choir's commission, At Sunset by composer and choir bass Jeff Enns is a tad lengthy but does utilize CCC's vocal ensemble strengths, while highlighting special guest soloist mezzo-soprano Christianne Rushton. The other special guests on the release, cellist Sehee Kim and pianist Joel Tranquilla, are also excellent on their respective tracks.
I was really surprised at the superb quality of the Canadian Chamber Choir. This group can sing lush harmonics and independent contrapuntal lines with equal expertise. Anyone even remotely interested in choral music will find "In Good Company" a welcome guest in their musical homes.