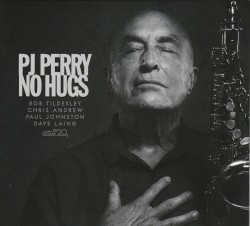 No Hugs
PJ Perry; Bob Tildesley; Chris Andrew; Paul Johnston; Dave Laing
Cellar Music CM062022 (cellarlive.com)
While new waves and variants of COVID-19 give the pandemic a feeling of endlessness, one positive thing to come out of this prolonged period of chaos is an abundance of lockdown art. While the world was standing still, and even the most career-focused individuals were suddenly baking sourdough in their pajamas, many musicians opted to spend their extra free time practising and composing. This is what stalwart saxophonist PJ Perry was doing, and the eight pieces he composed with collaborator Neil Swainson now form his latest album No Hugs.
Perry has a unique musical vocabulary that can function in a wide range of settings, from smooth to intense and cerebral to soulful. This is reflected in the entirety of No Hugs, which manages to sound current and old school at the same time. After repeated listening, I noticed that many of the tracks are comparable medium tempos, but in yet another display of balance there manages to be ample contrast and variety between songs.
Too Soon Gone is a rousing opening track that sets a swinging post-bop tone for the rest of the album. March of the Covidians gives listeners a dramatically different groove and energy, before the album's beautiful ballad title track. No Hugs features a short but sensitive piano intro from Chris Andrew, and beautiful improvised solos. The tempo picks up again on The Kestrel, and the remainder of the album concludes in such a manner that you'll be ready for another listen.