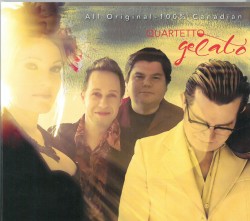 All Original – 100% Canadian
Quartetto Gelato
QGPI Records QGPI-010 (quartettogelato.com)
There are lots of tasty delights for the ear in this new release from one of Canada's favourite ensembles. Featuring the music of five Canadian composers, the stylistic differences of each work challenge Quartetto Gelato to pull out all the stops and prove yet again that the group can perform anything presented to them with perfection.
The current members are all musically gifted and brilliant technicians. Founding violinist/tenor Peter De Sotto, accordionist Alexander Sevastian, oboist/multi-instrumentalist Colin Maier and cellist Liza McLellan play with mutual musical respect and appreciation to detail. Cellist Lydia Munchinsky and percussionists Mark Inneo and Kevan McKenzie are welcome special guests on the tracks where they play.
The satisfying more traditional lush classical sound of Rebecca Pellett's Una storia d'amore is chamber music at its best. In contrast, Maier's banjo pickings support De Sotto's happy singing in Howard Cable's On The Crowsnest Trail. A driving rhythmic feel and dance groove highlight Hilario Duran's Latin-flavoured Aventura Afrocubana Suite. The appealing underlying improvisational sentiment of Michael Occhipinti's music makes his Sirocco and Ballu Di Gelato an intriguing listening experience. The ensemble shines in Jossy Abramovich's Gypsy Fantasia with more great vocal work by de Soto and Sevastian's accordion finesse. More awe-inspiring zippy accordion music shines on Charles T. Cozens' Celtic Dances.
Gelato fans should be thrilled with this new musical flavour from the always-entertaining Canadian concert stage stars!