The idea that music and theatre often combine in forms other than "musical comedy" was on my mind when I entered the rehearsal hall of the St. Lawrence Centre to talk with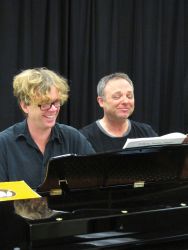 , the co-writers and performers of Two Pianos Four Hands (2P4H), arguably the most successful play in the history of Canadian theatre. Opening on November 2 for a limited run at Toronto's Panasonic Theatre, before it moves to Ottawa's National Arts Centre in January, the production marks the show's 15th year, a remarkable milestone that has seen various incarnations of the piece accumulate close to 4,000 performances in 175 cities (worldwide) and play to upwards of two million people.
Though small in size, 2P4H covers a lot of ground as it traces the lives of two boys, Ted and Richard, in their quest for stardom as concert pianists. Working fervently towards their dream, the boys suffer pushy parents, eccentric teachers, repetitive practice, stage fright, nerve-wracking competitions and, finally, their own limitations. After 15 years of tinkling the ivories, they apprehend the gap between the very good and the great, only to arrive at the humbling conclusion that stardom lies beyond their reach.