Cellist Matt Haimovitz has come up with a terrific double album for his latest release, Suffle.Play.Listen (Oxingale OX2019). Haimovitz, who is no stranger to cross-over and improvisatory playing, has teamed with pianist Christopher O'Riley to record what they describe as "a collaboration that blurs the boundaries between classical and pop."
CD 1 alternates the five movements of the Vertigo Suite, arranged by O'Riley from Bernard Hermann's score for the Hitchcock movie of the same name, with four 20th century standard repertoire pieces: Janáček's Pohádka; Martinů's Variations on a Slovak Folksong; Stravinsky's Suite Italienne (after Pulcinella); and Piazzolla's Le Grand Tango. It's all terrific stuff and, if anything, it shows just how close top-level film music is to the concert repertoire. CD 2 features O'Riley's arrangements of songs by the groups Arcade Fire, Radiohead, Cocteau Twins, Blonde Redhead and A Perfect Circle, and by guitarist John McLaughlin. It gets off to an electrifying start with Arcade Fire's Empty Room (watch a video of the recording session on www.oxingale.com) and is simply full of stunning playing by both performers. There is no mix with standard repertoire here, but it's not needed: several tracks are strongly reminiscent of the minimalist music of Philip Glass or Steve Reich and again serve to show just how blurred the boundaries between pop and concert repertoire can be. Haimovitz is clearly right at home her, but a great deal of the credit for this outstanding issue must go to O'Riley for his stunning arrangements and playing to match.



London's Wigmore Hall has long been a leading venue for top-class chamber music, both debut recitals and concerts by established artists. On May 25, 2010, the Russian violinist Alina Ibragimova and the French pianist Cédric Tiberghien gave the third and final recital in their complete Beethoven sonata series that started on October 27, 2009. Released on the Hall's own label to huge critical acclaim, Beethoven Violin Sonatas Vols.1-3 (WHLive0036, 0041 and 0045) captures the whole series in simply stunning live sound quality; apart from the extended applause at the end of each sonata, there is no hint of audience noise, although you can sense their presence and really feel that special electricity of a live performance in the simply exceptional playing.
Rarely do I play CDs that noticeably increase my pulse rate, but from the opening movement of the Sonata in D Major Op.12 No.1, through a magical "Spring" sonata and a dazzling "Kreutzer" to the final G Major Op.96, this Beethoven playing is as fine as any you will hear. It engages you on an emotional as well as an intellectual level from the outset and never lets go. Everything you could possibly ask for is here in abundance: breathtaking technique; faultless intonation; commitment; passion; tenderness and sensitivity; warmth and richness of tone; wonderful attention to detail; a wide range of colour, nuance, shading and dynamics; perfect balance; two wonderful artists thinking and playing as one. If ever three CDs cried out to be issued in a box set, it's these. They put you, front row centre, at one of the most thrilling and satisfying Beethoven recitals you will ever hear.
"Smiling faces, furious applause: that's how this series ended," said The Times. It's easy to see – and hear – why.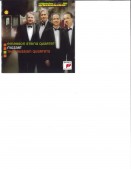 Mozart's Prussian Quartets K575, K589 and K590 were all that he managed to complete for an apparent commission for six quartets from King Friedrich Wilhelm II of Prussia in 1789. It's been a while – 20 years – since the Emerson String Quartet recorded any Mozart quartets, so these Prussian Quartets (Sony 88697935982) are a welcome addition to the catalogue. This is big, warm playing, with the players admitting that they don't hesitate to use generous vibrato when the emotional nature of the music calls for it. Their playing and interpretation are much in the style of the 1966 Decca recordings by the Weller Quartet, long a favourite of mine, and a masterclass in how to play late Mozart with passion and intensity as well as sensitivity and style. These are wonderful works, and the Emersons never put a foot wrong.
I'm not sure exactly what I was expecting from the new CD of the Cello Concertos by the Argentinean composer Alberto Ginastera (Naxos 8.572372) who died in 1983, but I was still quite taken aback by the two works; for some reason, I had no idea that they would have such an incredibly modernistic sound and form. The jewel case notes tell us that Ginastera "…fused the strong traditional influences of his national heritage with experimental, contemporary and classical techniques" and that's a perfect description. Soloist Mark Kosower does an outstanding job with extremely difficult and emotionally demanding works and has matching support from Lothar Zagrosek and the Bamburg Symphony Orchestra. Concerto No.1 dates from 1968, although Ginastera revised the score in 1977; the premiere of this version the following year featured the composer's second wife, cellist Aurora Natola, as soloist. The work uses 12-tone and quarter-tone techniques, and displays an astonishing range of colour and mood. The Concerto No.2, recorded here in a live March 2010 performance, is from 1980, and was written to celebrate the tenth wedding anniversary of Ginastera and Natola. In 2008 Kosower met and played for Ginastera's widow, shortly before her death early the following year at the age of 85; this CD is dedicated to her memory. In a 1964 programme note, the composer said that "A work which speaks only to the intelligence of man will never reach his heart." This CD speaks loud and clear – and in a highly individual and effective voice – to both. Mark Kosower has also recorded Ginastera's Complete Music for Cello and Piano on Naxos (8.570569), a CD that should be well worth tracking down if the performances here are anything to go by.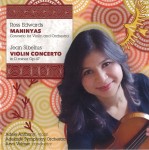 The Australian-American violinist Adele Anthony has a new CD on her husband Gil Shaham's Canary Classics label, pairing the Violin Concertos of the Australian composer Ross Edwards and Sibelius (Canary Classics CC09). The Edwards concerto, subtitled "Maninyas," has firmly established itself on the Australian musical scene, although it was at the centre of a philosophical storm over the future course of Australian music when it first appeared in the late 1980s. "Maninyas" is a word that Edwards coined to describe the new and personal style he was developing, which used rhythmic and chant-like melodies based on sound patterns from the world of the Australian bush. It's a beautiful work, and one to which Anthony is clearly fully attuned. The Adelaide Symphony Orchestra under Arvo Volmer provides excellent support.
At first sight, the Sibelius may seem to be a bit of an odd partner, but it too was drawn from the influences of the composer's native soil, and did much to establish an independent voice for Finnish music. It receives a wonderfully satisfying reading from Anthony, who won the ABC Instrumental and Vocal Competition in her native Australia with a performance of this concerto at the tender age of 13. Her affinity for the music and her complete mastery of the technical challenges are evident every inch of the way, and are clearly shared by Volmer, whose own experience with the orchestral works of Sibelius runs deep. This is a performance not to be missed.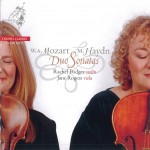 Violinist Rachel Podger and violist Jane Rogers have both been astonishingly successful in the world of period performance, and their technical and musical abilities and accomplishments are indisputable. Their latest recital disc (Channel Classics CCS SA 32411) features Duo Sonatas by Mozart and Michael Haydn, Joseph's younger brother. The two composers were good friends and Mozart's two sonatas were probably composed to complete a set of six that Michael Haydn was writing for the Archbishop of Salzburg. Podger and Rogers have been playing these two Mozart duos together since they were teenagers, and the playing here is not surprisingly stylish and absolutely top-notch; however, I did find it a bit on the cool side emotionally at times. The first two of Haydn's four sonatas are included, and while they are not the equal of the Mozart duos, they are delightful works presenting a different set of challenges for the players. A short Menuetto from Mozart's 12 Duos for 2 Horns rounds out the disc.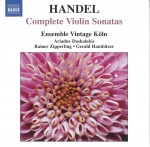 Regular readers will no doubt have noticed that my reaction to period performance CDs is quite often rather lukewarm. I'm not sure exactly what it is - perhaps it's the often transparent sound that many listeners simply love, but which to me too frequently comes across as thin, and not merely pure and clean, or the slightly-held-back performance manner that sometimes seems lacking in any real emotional involvement – but I often feel that the performances lack something and fail to engage me emotionally. For period performance playing that not only sets a very high standard but also draws you into the performances, try listening to the new Naxos CD by Ensemble Vintage Köln of the Handel Complete Violin Sonatas (Naxos 8.572245), featuring Ariadne Daskalakis on baroque violin, Rainer Zipperling on viola da gamba and baroque cello and Gerald Hambitzer on harpsichord. The Handel violin sonatas have been the subject of much research concerning their authenticity, and this disc presents all of the works now credited to the composer, as well as the four sonatas that were long attributed to him but are now believed to be the work of others. This is an immediately warm and fully engaging disc; Daskalakis is a marvellous soloist, and receives perfect support from Zipperling and Hambitzer. The harpsichord continuo is crisp and lively, and the cello playing simply outstanding – in fact, the interaction is so strong that it sometimes feels as if we are listening to duo sonatas. These are clean, strong, well-balanced and scintillating performances, with impeccable style but also with heart and guts. And there's the difference: while you're listening to this CD, you simply can't imagine these works being played any other way, or being played better. And for me, that's the true test of period performance – or of any performance, for that matter.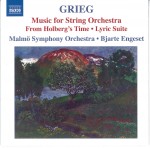 Naxos has issued a fifth volume in their ongoing series of the music of Edvard Grieg, this CD featuring the Music for String Orchestra along with the Lyric Suite for Orchestra Op.54 (Naxos 8.572403). The Malmo Symphony Orchestra is led by the Norwegian conductor Bjarte Engeset.
Most of the music here is well-known and well-loved: Two Elegaic Melodies Op.34; Two Melodies for Strings Op.53; the Holberg Suite; Two Lyric Pieces Op.68; Two Nordic Melodies Op.63. The Lyric Suite was originally the Norwegian Suite, an 1894 orchestration by Anton Seidl of four of Grieg's Lyric Pieces for Piano; the suite was substantially revised, re-orchestrated and rearranged by Grieg himself in 1904, some six years after Seidl's death. All of the performances here are warm and suitably idiomatic, with the sound quality up to the usual Naxos high standard.