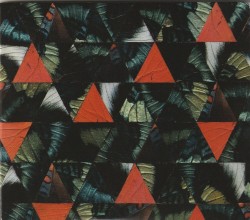 Live at the Village Vanguard
Kris Davis Diatom Ribbons
Pyroclastic Records PR 28/29 (krisdavis.net)
Émigré Canadian pianist/composer Kris Davis here commemorates a landmark appearance at New York's Village Vanguard with this two-CD set by a quintet form of her group Diatom Ribbons, ranging through a program that includes both compositions by celebrated jazz composers and several of her own works that sometimes incorporate the voices of a few singular influences. Essentially heterodox, broad-based and witty, the music is anchored by drummer Terri Lyne Carrington and bassist Trevor Dunn, while Val Jeanty contributes turntables and electronics and Julian Lage, perhaps the leading jazz guitarist of the day, matches the blistering virtuosity and manic playfulness that Davis brings to piano, prepared piano and arturia microfreak synthesizer.
The occasion is clearly one to celebrate and the performance is carnivalesque in mood and variety. The opening Alice in the Congo, composed by Ronald Shannon Jackson, has roots in both funk and free jazz, and Jeanty's contribution adds hip-hop before Davis solos with wild keyboard splashes and runs. Other pieces from the contemporary repertoire include Geri Allen's The Dancer and two distinct versions of Wayne Shorter's Dolores.
The bulk of the set consists of Davis' own compositions, some acknowledging more influences, Nine Hats referencing works by Eric Dolphy and Conlon Nancarrow and the comically lumpy VW overlaying an archival radio interview with Sun Ra. Composers' voices are even more prominent in the three-part, 34-minute Bird Suite. The Bird Call Blues segment references both bird song and Charlie Parker with the voices of Olivier Messiaen and Paul Bley, while Karlheinz Stockhausen discusses "intuitive music" on Parasitic Hunter.
Somehow Davis manages to merge all of these diverse elements into a coherent and original whole – at once pulsing, comic and touching – that's a brilliant representation of the range, freedom, energy and inclusivity that jazz can achieve.