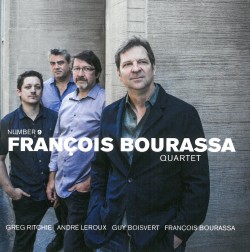 Number 9
François Bourassa Quartet
Effendi Records FND150 (effendirecords.com)
With the release of his ninth CD, François Bourassa reminds us why he is considered to be one of the jazz world's finest pianist/composers. All of the superb material here has been written and produced by Bourassa. His talented group includes longtime collaborators André Leroux on tenor sax, flute and clarinets, Guy Boisvert on bass and Greg Ritchie on drums. From the downbeat, this is a group that communicates on a psychic level, soaring together through the highest realms of musical creativity and jazz expression, travelling via the emotional pathway of the heart.
The compositions reflect a nostalgic reverie for Bourassa – melodic portraits of people, places and events, now revisited with a big dose of mature vision as well as the muted and misty sepia-toned colours of memory. All members of the Quartet are really time travellers who (in addition to firm linear time) also intuitively understand the quantum multi-dimensional nature of spacetime, and that the "now" is the conceivable and creative aspect of all that is.
Standouts include Carla und Karlheinz, which was written in honour of avant-garde pianist/composer Carla Bley and electronic music pioneer Karlheinz Stockhausen. The clever juxtaposition of styles here is simultaneously mindbending and delightful. Bourassa's technical skill on this challenging track is also thrilling, and Leroux sizzles on his gymnastic solo. Also evocative are Frozen, which conjures isolated, inescapable fields of nothingness, and Past Ich, featuring gorgeous, melodic playing from Bourassa, punctuated by Leroux's alternately caressing and yowling soprano sax.
Clearly, this profound, beautifully recorded project will be considered one of the finest international jazz recordings of the year.