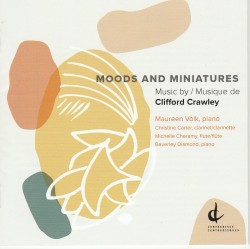 Clifford Crawley – Moods and Miniatures
Maureen Volk; Christine Carter; Michelle Cheramy; Beverley Diamond
Centrediscs CMCCD 28621 (centrediscs.ca)
"Cliff was a master of the miniature," writes pianist Maureen Volk, Memorial University professor emeritus. This CD presents 39 of them, most under two minutes, one only 17 seconds! It begins, though, with the three-movement, 13-minute iPieces, composed for Volk in 2010. iOpener and iDeal feature Gershwinesque bluesiness and dreamy nostalgia; iDears is a perky succession of different dance rhythms and a Gershwinesque finishing flourish.
England-born Clifford Crawley (1929-2016) came to Canada in 1973 and taught at Queen's University for 20 years. In 2002, he moved to St. John's where his wife, pianist-ethnomusicologist Beverley Diamond, joined the Memorial University faculty. Volk writes, "My colleagues" – including this CD's flutist Michelle Cheramy and clarinetist Christine Carter – "and I met a soft-spoken and generous man with a ready smile and a sly sense of humour who soon became a good friend. We also discovered a composer who had written a trove of wonderful music that deserves to be more widely known."
Listening to Toccatas and Twelve Preludes for solo piano, Ten a Penny Pieces for clarinet and piano, pieces-of-eight for flute, clarinet and piano and Kalamalka for piano-duet (Volk and Diamond), I was often reminded of Poulenc who, like Crawley, enjoyed juxtaposing dancehall and circus music with poignant, melancholic lyricism. Crawley's playful waltz, tango, polka and foxtrot rhythms, combined with his innate melodic gift, created music that was surely gladdening to compose and, for this listener, definitely gladdening to hear.