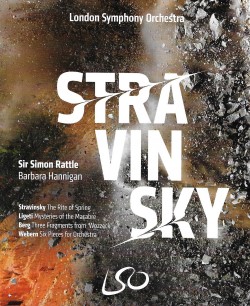 Stravinsky – Rite of Spring: Ligeti – Mysteries of the Macabre; Berg – Three Fragments from Wozzeck; Webern – Six Pieces for Orchestra
Barbara Hannigan; London Symphony Orchestra; Sir Simon Rattle
LSO Live LSO3028 (lso.co.uk)
Some will want this album for the major work, the Stravinsky, while others will want to hear how the LSO will sound under their new music director, recently returned from Berlin. Still others, a lot of others, will want to hear what Barbara Hannigan is up to, particularly the outrageous Mysteries of the Macabre, which is a specialty of hers and has been recorded and videoed several times.
Hannigan is astonishingly versatile, a brilliant soprano singing what sopranos sing, in addition to works by 20th- and 21st-century composers, and is developing as a conductor (often while singing!). (There is, by the way, a revealing and fascinating documentary on another DVD, Barbara Hannigan Concert and Documentary from Lucerne (Accentus ACC 20327) published in 2014. In it she explains what Ligeti's Mysteries of the Macabre is all about. She is the chief of the secret police who is crazy, paranoid and hysterical, who cannot speak real words and gives orders to her squad, the orchestra, in indecipherable code. A crazy but serious piece, especially coming straight after the genuinely searching fragments from Wozzeck.)
The concert from January 15, 2015 opens with the Webern pieces in a performance that puts the likes of, say, a Boulez to shame. Finally to Le Sacre. The playing is measured, powerful and incisive throughout with accents and attacks quite audible, even in the ferocious but controlled tuttis. Both audio and video are most impressive and considering the repertoire, this Blu-ray disc packaged with a regular DVD is enthusiastically recommended.