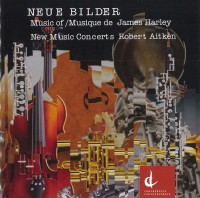 Neue Bilder - Music of James Harley
New Music Concerts; Robert Aitken
Centrediscs CMCCD 16010
One of the benefits of the endangered CD format is illustrated by the release of compilations such as this revealing in-depth look into the oeuvre of Canadian composer James Harley (b.1959).
On one hand we have detailed programme and biographic notes in the booklet allowing one-stop exploration of the creator's mind and life leading up to compositions spanning 22 years. On the disc, we have the star performances of Toronto's venerable New Music Concerts (NMC). Celebrating 40 years of dedication to new music this season NMC's musicians consistently present interpretations of a high level, and these performances – many recorded live – live up to those standards of excellence. As a stellar example, NMC co-founder and internationally renowned flutist Robert Aitken's brilliant performance of Harley's early solo flute piece Portrait (1984) is a demonstration of virtuosity in the service of the composer's lyrical musical vision.
While the spirit of the Second Vienna School is alive in the eloquent and elegant music of Harley's composition Neue Bilder (1991), the notes reveal that the work is actually based on the music of an earlier Austrian composer. "Algorhythmically" transforming abstracted material from an illustrious aria from Mozart's opera The Magic Flute, this work is a testament to the magical possibilities inherent in musical metamorphosis in its many forms.
Judging from the five works here Harley, who presently teaches Digital Music at the University of Guelph, has a rare gift for sustained melodic line. The passionate flute and cello solos in Epanoui (1995) and the breathy, delicate bass flute exhalations in Tyee (1995) provide ample evidence of that. It's a gift I appreciate receiving, repeatedly.