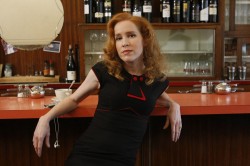 Courage, strength and wonder: three little words that merely scratch the surface of Alex Pangman's inspirational story. But before going into details concerning her health and heroism, here's a prelude to her music.
Seated on her grandpa's knee some 30 years ago, "Five Foot Two, Eyes of Blue" was the first jazz song Pangman recalls hearing. Today the five-foot four-inch turquoise-eyed singer is known as "Canada's Sweetheart of Swing," a title the Mississauga native has earned by remaining unflinchingly faithful to American popular music of the 1920s, 30s and 40s.
Her world was turned upside-down, as if "discovering a new continent," when she fell hard for jazz in her teens. Her debut performance with an equestrian friend's band singing Bessie Smith's "Nobody Knows You When You're Down and Out" at the Schnitzel
House ("with my back to the audience 'cause I was so nervous") was a hit.
One gig led to another, and it wasn't long before the late great Jeff Healey fell under her musical spell, labeling Pangman "the greatest current exponent of the classic American song." Healey, unparalleled as a musician, historian and mentor, went on to produce her first two recordings, They Say (1999) and Can't Stop Me From Dreaming (2001) on Sensation Records. The self-produced Alex Pangman and Her Alleycats Live at the Montreal Jazz Festival (2005) was captured live before an enthused audience. Pretty soon she was booked to collaborate with everyone from Grammy-
nominated trumpeter Kevin Clark and the suave Denzal Sinclaire to charismatic pianist Tyler Yarema and even Jim Galloway's All-Stars.
Apart from possessing a warm, honey-like tone and a dandy dedication to diction, Pangman is a sophisticated storyteller who takes great pride in stories worth telling. Throughout her career she has managed to unearth more treasures from yesteryear than just about anybody:
"While I know the pleasure and familiarity that playing a standard gives an audience," she begins, "and I place them throughout my set, I absolutely love these obscure little gems. It's like exploring unmined archeology, discovering the "not-so-standard standards": songs that for whatever reason never got as hackneyed as, say, "All of Me" – a beautiful song to be sure, but done to excess. It is always my pleasure to dig up a forgotten gem, and really there are many timeless gems that have been – for whatever circumstances – waylaid from infamy."
In the hands of Pangman, virtually unknown gems like "Through the Courtesy of Love," "I'll Never Say 'Never Again' Again" and "I Had Someone Else Before I Had You" are given a second chance at life. In addition to such discoveries, occasionally the singer delves into compositions of her own, as in the case with "Melancholy Lullaby" from her second album:
"I'm pretty loyal to the old style of songwriting which I love so dearly," explains Pangman, "but for me the timing has to be right. The emotions need to be clear, the house needs to be mine, and I generally sit at the piano alone and perhaps pick out the melody, with the lyrics accompanying this process. On the rare occasion that I coin a new song – let's face it, the Great American Songbook has made me a lazy songwriter – I usually will slide a "new song" into a set list without telling the boys where it came from. If they just assume it's another of the 1930s fare I'm used to unearthing then I know it's a goody. I guess my aim is for my songs to seem as timeless as I find so much of the music from that era to be."
It's nothing short of remarkable that Pangman is one of this country's most breathtaking jazz singers, given that she was born with cystic fibrosis. This incurable genetic disease debilitates the lungs, causes persistent shortness of breath, frequent pulmonary inflammation and in many cases ultimately requires lung transplantation.
And that's exactly what it came down to by late 2008. By that autumn, Pangman was in a devastatingly fragile state, requiring an oxygen tank for simple tasks like getting dressed and walking her dog. Down to 27 percent of her lung capacity, a double lung transplant became her only hope, and she was on a waiting list for six agonizing months. Thankfully and very luckily, a donor came through just in time. On November 4, 2008, Pangman was given a second chance at life. This is how she recollects that life-changing day:
"It was 9:07 am precisely when my cell phone rang at my bedside. I had just slipped into a nice dream about washing my hair when the phone woke me with a startle. 'Hello, this is Toronto General Hospital calling. We may have a set of lungs for you today. We need you to come to admitting right away.'"
She continues: "At the hospital I got admitted, x-rayed, ECG'd, blood-sucked, swabbed, looked over, and autographed by the surgeon so quickly! As we were all sitting around feeling anxious, the door to my room swung open and the nurse announced triumphantly, '1 pm – Operating Room time!'
"Now, saying goodbye to the ones who raised me wasn't easy, but it all happened so quickly, I just did it. I handed over my glasses for safekeeping. A hug from Mom over the side of the gurney cannot possibly encapsulate the love or gratitude one feels for the lifetime of unconditional love, or can it? Another hug from Dad who said he loved me (something Dad finds easier to express through car washes and greeting cards) with the added, 'Kick some butt!'
"And then I turned to Tom, my sweet handsome groom, whose eyes were filled with tears of joy and fear and gladness and everything. I looked at him wondering if it'd be the last time, or just the last time with these lungs. But taking my eyes off him was very hard to do. This could be the start of something big! Then the stretcher started to roll away and I think I remember mother nervously joking, 'I suppose I should be offended that she's exchanging something I gave her!' (the lungs).
"I pulled a smile, sort of excited and shy to roll into the O.R. and found it much smaller than I'd imagined. 'Is this where it's going to happen?' I remember asking. Despite my lack of glasses (I'm not that short sighted!) I saw a group of focused people all at work. Someone numbed my arm, started a line here and there, movement all around. I spoke up and said something nervous and silly along the lines of, 'Okay team, I'm a singer. So lets hope the intubation goes well and I'm back singing someday, huh?'"
Since the successful double lung transplant, Pangman has been back in business and singing more sweetly than ever before. She doesn't need oxygen for simple everyday tasks. She is feeling "so grateful for each and every day." How does it feel to be public about her disease and her transplant?
"Well, to tell the truth, it felt at first a little bit like leaving your house without your clothes on," she laughs. "In the past I kept my health hidden because I always wanted to be thought of as a singer, rather than a singer with a disability. But I must say it feels good because I know that in raising awareness I have the chance to really change people's lives. I'm in a unique position in that my lungs are also my art – I'm an artist who depends on her lungs. It is a bit weird I guess, to hear of a singer who got a lung transplant, and if that gets people's attention, then that's what I'm here to do."
As of this writing, Pangman – not to mention her adoring musicians and fans – are enthused about the upcoming release of her new album, 33. Recorded post-transplant, just after her 33rd birthday, it features songs that were popular in 1933 and in addition to a digital release will be available as a long-playing record album – a "33" LP! One of the selected songs, "100 Years from Today," contains a line that resonates all too well with the singer today: "So laugh and sing/ make love the thing/ be happy while you may!" It's safe to say that whenever and wherever the new recording will launch, there will be a healthy lineup for this lady's autograph.
Ori Dagan is a Toronto-based jazz vocalist, voice actor and entertainment journalist. He can best be contacted at jazz@thewholenote.com.
• Alex Pangman appears on the first Tuesday of every month at 7 pm at the Reservoir Lounge, 52 Wellington St. E. As well, this summer she appears at Owen Sound's Summerfolk Festival on the weekend of August 20-22. To purchase Pangman's recordings and check out future engagements, visit www.alexpangman.com.
To learn more about how you can become an organ donor, visit www.giftoflife.on.ca.