APRIL's Child…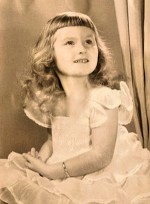 Don't be fooled by those dainty fingers at rest. They were already playing the Haydn Concerto with the Royal Conservatory Orchestra. Studying at Juilliard, she played her Town Hall debut in NYC at 14, after sharing first prize in the High School of the Performing Arts Concerto Competition with Murray Perahia; and then impressing the likes of composers Karlheinz Stockhausen, György Ligeti and Pierre Boulez. (photo: circa 1958, taken in Ottawa.)
Think you know who APRIL's child is?
Send your best guess to musicschildren@thewholenote.com
(please provide your mailing address, just in case your name is drawn!)
Winners will be selected by random draw among correct replies received by April 15 2009.
Congratulations to our MARCH winners!
TICKETS! for Karen Wiseman to hear NEXUS (Sun Apr 05, 7:30pm) at The Glenn Gould Studio: world premieres of works by Eric Ewazen and marimba virtuoso Gordon Stout, new arrangements for keyboard percussion of John Cage's enigmatic Chess Pieces, and Arvo Pärt's haunting Spiegel im Spiegel.
CDS! for Melania Varjabed and Monika Delmos
Drumtalker: two major works for percussion quintet: The Invisible Proverb (Hartenberger) and Percussion Sonata Number 2 (Schickele); four medleys of famous popular songs from the 1920s, arranged by xylophone virtuoso Bob Becker.
Wings: the 15th CD on the group's own 'NEXUS' label; arrangements by NEXUS members of popular songs by distinguished Japanese composer, Toru Takemitsu, a friend and mentor to NEXUS from the late 1960s until his death in 1996; original compositions by NEXUS members.
Music's Children gratefully acknowledges Colin Eatock, Bonnie Scheckter, NEXUS (www.nexuspercussion.com) and Linda Litwack
MARCH's CHILD…..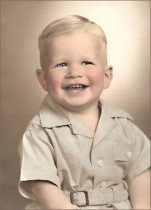 …was Russell Hartenberger: a member of the percussion ensemble NEXUS, also the Steve Reich Ensemble. He is a professor of percussion, the Chair of Graduate Education, and the Dean (since October 2007) of University of Toronto's Faculty of Music.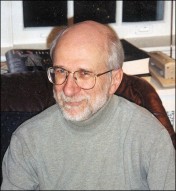 A Musical Ride
Seated together on a bus, if I asked you what work you do, what would?
I get this question going through the customs line at the airport. I tell them I'm a musician, and if they inquire further, I tell them I play drums or percussion. That response has often led to a long discussion with the customs agent about their favorite drummers.
Earliest musical memory?
... helping my Dad ring the bell in the church steeple in our small town. My Dad would lift me up to hold onto the rope and let the rope pull me up and down as the church bell rang.
Music in your family?
In your early life?
My Mother played the church organ and taught piano every day after school and all day on Saturdays. A stickler for rhythmic precision with her students - she had them play with a metronome regularly, and counted out loud as they played. Dad stopped playing trumpet when I was young, but would occasionally pull out his horn, go through the intriguing process of lubricating the valves, and play the high school fight song. One sister directed church and community choirs, and my other sister played the clarinet in school bands.
My sister and I used to make up a piano piece we called "Thunder and Lightning". One of us would play chord clusters in the bass register while the other would play crashes of sound in the high register.
I was also the mascot for the local high school band and attended many of their rehearsals, especially during marching band season.
My wife, who is a visual artist, plays the cello, piano, and recorder. My two daughters sing in choirs and play instruments. Neither is pursuing a career in music, although they are both extremely talented musicians.
First instrument? Ambitions?
My first real instrument was the snare drum, which I began playing in the Grade 6 school band. I had a wonderful percussion teacher named Alan Abel when I began taking lessons at age eleven. Hooked on percussion I aspired to follow in Mr. Abel's footsteps. Prior to my snare drum days, I wanted to be a second baseman.
Anything you would say to the young person in that childhood photo?
You'll never in your wildest dreams imagine the wonderful life you have in store for you!