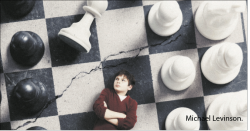 Acting up Stage Company is on a roll. Since its inauguration in 2005, this small but visionary theatre has steadily attracted attention, its 2011/2012 season pulling an audience of over 11,000 members, landing six Toronto Theatre Critics' Awards, and receiving 11 Dora Award nominations, four of which it won for the acclaimed production of Caroline, or Change. As Mitchell Marcus, the company's peripatetic artistic director puts it, "we were blessed with a … season where all of the elements magically came together." Inevitably, the comment prompts him to ask, "Where do we go from here?"
The answer, or the first half of it at least, was on view this past February and March at Toronto's Factory Theatre. Do You Want What I Have Got? A Craigslist Cantata is a song cycle of ads from the online classified site set to music by Veda Hille and Bill Richardson that generated enthusiastic responses when it premiered at Vancouver's PuSH Festival last year. After seeing the show, Marcus "knew that we had to find a way to produce it in Toronto. Our company has been known for eight years for bringing to Toronto boundary-pushing musicals that defy our expectations from the genre; in that regard, it is imperative that we also play that role with similar kinds of works that are being developed in Canada." Toronto critics lauded A Craigslist Cantata as much as they praised Ride the Cyclone, Acting Up's import last season. Audiences, concurring with critics who found the show "intoxicating, wildly creative, wonderfully witty and just downright fun," queued nightly for rush seats. The production sold out an extended run.
For its second show this season, Acting Up Stage joins forces with the Harold Green Jewish Theatre to co-produce Falsettos, a new production of the Tony and Drama Desk award-winning musical whose book by James Lapine and music and lyrics by Lapine and William Finn is widely considered a break-through in musical theatre form. Despite such regard, the show, last seen in Toronto 18 years ago, rarely is produced, a fact that surprises Marcus. "Falsettos might be my favourite musical ever, and I [am] shocked that it hasn't received a major revival anywhere in the world since its Broadway run in the early 90s." Opening the show on April 23 for three-weeks at Daniels Spectrum, a new space in Regent Park, he hopes to ensure its success by hiring the Dora Award winning team responsible for Caroline, or Change to stage the production. With Robert McQueen (director), Reza Jacobs (music director), and Tim French (choreographer) rehearsing a stellar cast, Marcus is betting on another winner.
Most synopses of Falsettos do little to suggest the "difficult" nature of its book, or its historical significance—not to mention the wit, poignancy and sophistication that elevate its music and lyrics above standard Broadway fare. The show incorporates three plays written over a 15-year period, each staged separately Off Broadway as one-acts before being integrated into one long production that opened on Broadway in 1992. Significantly, that two-act presentation, despite winning Tony Awards for Best Book and Best Score, failed to take home the Tony for Best Musical of the year, an irony that attests as much to the themes of the piece as to its unusual form—fast-paced sequences of short vignettes sung-through in a non-linear and frequently self-referential fashion.
Act One of Falsettos, titled "March of the Falsettos," incorporates material written by Finn for "In Trousers" in 1979, the year in which the act is set, to bring to life a group of New Yorkers whose circumstance is by no means extraordinary. Marvin, the central character, leaves Trina, his wife, and Jason, his son, for another man, Whizzer Brown. Complications ensue when Trina falls in love with Mendel, Marvin's psychiatrist, then moves in with him and begins to plan their marriage. At act's end, Marvin's dream of a tightly-knit but "extended" family lies in ruins, and his relationship with Whizzer comes to an end. Desperate, he turns to Jason to posit a future, assuring his son that no matter what sort of man he chooses to be, he will be loved, at least by him.
When "March of the Falsettos" premiered as a one-act production Off Broadway in 1981, the libidinous experiments of the swinging Seventies were shifting to more sombre reflection—or so popular wisdom holds. Nevertheless, the tone of the piece was upbeat, its bitter-sweet ending promising change. In 1992, as Frank Rich recounts in his New York Times review of Falsettos, "When 'March of the Falsettos' first charged confidently forward . . . 11 years ago, nothing so bad was happening, and the high spirits of that moment pump through Act I of Falsettos as if pouring out of a time capsule. Act II plays out in another key as lovers no longer 'come and go' but 'live and die fortissimo'." He refers, of course, to the havoc wrecked by AIDS which, by then, had devastated communities of gay men perhaps more extensively in New York than any other American city.
In 1981, AIDS had yet to be identified, let alone named. The fact that Act II of Falsettos, titled "Falsettoland," is set in that year, allows the writers to introduce a darker tone to the music as they expand their narrative to include the effects of the mysterious new illness that Whizzer contracts. Rich notes that "[In Falsettos], Mr. Finn is not merely writing about the humorous and sad dislocations produced by an age of liberated sexual choices and shifting social rules. When 1981 arrives in Act II—and with it, a virus 'so bad that words have lost their meaning'—Mr. Finn is not merely charting the deadly progress of a plague. . . . [He is writing about] a warring modern family divided in sexuality but finally inseparable in love and death."
"Falsettoland" premiered as a one-act production Off Broadway in 1990. While it introduces two new characters—Marvin's lesbian neighbours, Dr. Charlotte, an Internist, and Cordelia, a kosher Caterer—its focus remains Marvin and his relationships with Trina, Whizzer and Jason. When Trina turns her considerable energy to planning Jason's Bar Mitzvah, the enquiry into manhood begun by "March of the Falsettos" gains a new dimension. Simultaneously, Whizzer's reappearance and subsequent reconciliation with Marvin ushers in the unexpected complication that has begun to unsettle Dr. Charlotte in her practice—the mystery virus killing scores of gay men.
For audiences who saw "Falsettoland" as part of Falsettos in 1992, Rich notes, the act "[gained] exponentially in power by being seen only 15 minutes, instead of 9 years, after the first installment." For Toronto audiences today, it is difficult to forecast how the power of Falsettos will register, the AIDS crisis having lost the media spotlight even as it continues to blight the lives of millions of people worldwide. Mitchell Marcus argues that the time is ripe to restage the show—not because it foreshadows AIDS but because it emphasizes the changing nature of families and the way they respond to crisis. As he says, "In a world concerned with the legislation of Prop 8, the It Gets Better campaign, and the recent repeal of 'Don't Ask Don't Tell,' Falsettos offers a platform for discussion about how far society has or has not progressed since the AIDS era. Looking at the breakdown (and ultimate re-genesis) of family after a father leaves his wife and son for another man, Falsettos explores connections (both losses and gains) of those closest to us."
It also revives a water-shed moment in the history of American musical theatre. Again, I quote Frank Rich: "Falsettos is a show in which the boundary separating Off Broadway and Broadway is obliterated, a show in which the most stylish avatars of the new American musical embrace the same thorny urban landscape of embattled men and women to be found in so many new American plays." For this reason alone, Toronto's production is worth seeing. But there are other reasons as well.
For the first time ever, William Finn has granted permission to a producing company to use the text and score of the original one-acts that comprise Falsettos to re-create the sensibility of the different time periods in which each act is set. "We are delighted to have built such a strong relationship with William Finn over the last nine seasons […] that he has endorsed our re-examination of the piece," says Marcus, noting that his company has produced the professional Canadian premiere of Elegies: A Song Cycle and A New Brain, two of Finn's lesser known works. For Marcus, staging the two acts in their original form provides "a genuine snapshot of two moments in history—something utterly unique in the musical theatre. As such, we want to highlight this rarity and try to recreate for our audiences what it would have been like to revisit these characters after a decade, with a completely new perspective. So while the texts will reflect the original one-acts, the design and staging will be utterly different for each act. It's a very novel approach to this piece and one that I think will help to frame the experience of this family pre and post the discovery of AIDS…."
The approach is appropriate to Finn's score which includes a variety of styles characteristic of the 80s. In his review, Rich suggests that "One of the virtues of Falsettos is that you take in [Finn's] whole, wide range in one sitting and appreciate the dramatic uses to which he puts his music, not just the eclecticism of tunes that range from show-biz razzmatazz ('Love Is Blind') to lullabye ('Father to Son') to lush ballads ('Unlikely Lovers'). . . ." For Marcus, the score is "one of the most unique ever heard in a Broadway musical." He elaborates: "Finn employs almost patter-like songs which shift quickly from one to the next, and allow characters to rapidly deliver train-of-thought information. Nothing feels planned; it always feels like characters are discovering things for the first time as they sing their thoughts. The result feels so deeply human and raw. These characters are in a constant state of panic as they try to put their lives back together." Remarkably, the two acts, though different in tone, create a cohesive score. A musical signature from Act I turns up in Act II, fractured and reformed, to highlight how life cracks and reshapes the characters. In Act II, Finn embellishes the music that accompanies Dr. Charlotte's lyric about "something bad spreading, spreading, spreading round" so that it itself appears to spread, a metonym for the insidious terror that accompanies the proliferation of the still nameless virus.
Like Marcus, Reza Jacobs, muscial director of the production, is thrilled by the opportunity to work with a sung-through score that is neither opera nor conventional musical. Nevertheless, he admits that the score challenges the cast of seven, most of whom are known to Toronto audiences for their work in productions here and at the Stratford and Shaw Festivals. One actor, in particular, I would like to mention—Michael Levinson whose performance as Noah, the privileged son in Caroline, or Change, won him a Dora nomination last year. In the demanding role of Jason, Levinson must navigate not only the complex requirements of the score but, as well, the complicated emotions of the adult characters. It is appropriate that Acting Up Stage uses his image in its advertising for the show for, in many ways, his character symbolizes the emotional break-throughs that all the characters pursue and, to differing measure, achieve.
Lapine and Finn end Falsettos with a scene that centres on Jason's Bar Mitzvah—a rite of passage that celebrates a boy's arrival at manhood in the Jewish religion. From this time on, the child is entitled to participate in all areas of life in the Jewish community, but must do so as an adult, assuming full responsibility for his actions. Because this ritual often occurs when a boy turns 13, his voice frequently "breaks" around the same time, so that he speaks in two registers—the modal or normal one, and the falsetto, an octave highter. The dual nature of a speaker's voice during this period of change suggests the double nature of the boy/man—a person able to frame his perceptions of the world from two different perspectives. This, Lapine and Finn imply, is the state of many of the characters in Falsettos who are left to celebrate Jason's coming-of-age in the hospital room where Whizzer lays dying.
Yes, the ending of Falsettos IS difficult, but it heralds a number of beginings. All of them merit attention.
Based in Toronto, Robert Wallace writes about theatre and performance. He can be contacted at musictheatre@thewholenote.com.