The fascinating thing about jazz — and life itself — is that one never knows where it's going. One of Toronto's finest and most established jazz pianists, Richard Whiteman is set to celebrate the release of his eighthrecording. The big surprise? This time, he plays the bass.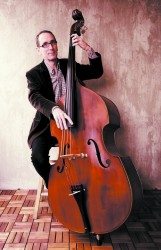 "My career as a bassist started during a photo shoot in my backyard in the summer of 2003 with Brandi Disterheft and drummer Sly Juhas. I held Brandi's bass while she made a makeup/hair adjustment. Although I couldn't play the thing, I was fascinated and said to myself, "This is cool!" Two weeks later I bought an instrument at George Heinl and Co. and started taking lessons."
Whiteman's greatest challenge?
"Merely learning how to play the instrument," he says. "I have done a lot of slow repetitive practice over nine years to get a reasonable technique. Playing in tune is paramount." (Charmingly, in the new recording's liner notes he thanks his life partner Bev Legg "who has had to endure nine years' worth of daily arco practicing. Love is not only blind; it is deaf.") On that note: "Playing the bass has improved my musical ear. Unlike a fixed pitch instrument like the piano where the player has merely to press a key and a sound will be generated, a string player has to really hear a note before playing it and then stop the string at an exact spot on the fingerboard — not an easy task. My overall musicianship has improved."
The new album, On Course, is an enjoyable straight-ahead jazz affair seasoned by tasteful choices not only in repertoire but also in personnel. Whiteman explains:
"There is no concept for the CD except, perhaps, 'Songs I like performed by musicians I like.' I'm very impressed by Amanda Tosoff's piano-playing and am pleased to showcase her. She gets a lovely sound out of the instrument, paces her improvisations intelligently and burns with a lot of fire when needed. Master guitarist Reg Schwager is a brilliant soloist and the best possible accompanist. Morgan Childs plays the drums with great energy, spirit and musical taste. Tosoff is a prolific jazz composer and we recorded two of her tunes. The other songs, by writers like Harold Arlen, Cole Porter, Duke Ellington and Billy Strayhorn, are timeless and beautiful. You'd have to be deaf to the beauties of the Western tonal system NOT to like this material."
Peruse our In the Clubs (Mostly Jazz) listings section (page 64)and you will find that Whiteman still plays plenty of piano, leading a quartet on Monday nights at Gate 403; he also plays with the Hogtown Syncopators at the Rex on Fridays from 4-6pm.
"I don't have the time to learn another instrument, but I would like to take a few voice lessons so I can use an instrument that doesn't involve gear, automobiles and heavy lifting," says Whiteman, drolly adding, "I certainly have the ego for it."
Richard Whiteman's bass quartet celebrates On Course by playing the early evening slot every Thursday in December at the Rex at 6:30pm.
"QUOTES ABOUT QUOTES"
For the first time in years, our In the Clubs (Mostly Jazz) listings are empty under the letter Q, as Quotes Bar & Grill, the cozy jazz venue below Barootes Restaurant, is closing this month. Reminiscent of a 1940s New York City jazz club, Quotes will be missed by many folks who attended the Canadian Jazz Quartet's fantastic "Fridays at Five" series, featuring Gary Benson on guitar, Frank Wright on vibes, Don Vickery on drums and Duncan Hopkins on bass and cream of the crop weekly guests. If there's one silver lining, it's outlined in this quote about Quotes:
"All this ceased, not because of waning interest, but because the building was sold. The old adage 'All things must come to an end' somehow doesn't fit here. Not yet. I find it hard to believe that all this life and vitality won't find another home for 'Fridays at Five.'"
— Gary Benson, leader of the Canadian Jazz Quartet.
Event and project manager Fay Olson is very hopeful about the continuation of the series and is seeking a new venue ... she talks about her qualified quest for an alternate to Quotes on our blog here.