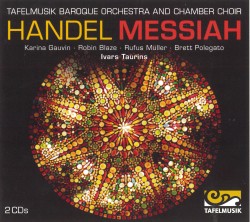 Handel – Messiah
Karina Gauvin; Robin Blaze; Rufus Müller; Brett Polegato; Tafelmusik Baroque Orchestra and Chamber Choir; Ivars Taurins
Tafelmusik TMK1016CD2
Handel's Messiah was first performed in Dublin in 1742 and in London on numerous occasions between 1743 and 1759. After Handel's death, performances grew larger in scale, culminating in the Crystal Palace performance of 1857 with its 2,500 musicians. Something of that big band effect can be heard in the performances conducted by Sir Malcolm Sargent. In his 1959 recording his tempi are ponderous with huge rallentandos at the end of movements. He also re-orchestrated a great deal of the work.
A major event in the recording history of Messiah was the performance conducted by Charles Mackerras in 1966. Mackerras used modern instruments but nevertheless communicated his understanding of baroque performance practice. Soloists were encouraged to decorate their parts, something heard to especially fine effect in Janet Baker's handling of the da capo in He was despised. Since then there have been many historically informed performances: my own preference is for the one conducted by William Christie. Just listen to the buoyancy of For unto us a Child is born or to the radiance which Barbara Schlick brings to I know that my Redeemer liveth.
The new Tafelmusik recording holds up well. The orchestra and choir are excellent. As for the soloists, tenor Rufus Müller is very good, baritone Brett Polegato is outstanding and soprano Karina Gauvin is out of this world. I am of two minds, however, about the countertenor: he is good in O thou that bringest good tidings, but He was despised drags and other arias need greater evenness than Robin Blaze brings to them.
Over the years Tafelmusik made a number of recordings for Sony. Many of these have been deleted but some of them have been brought back by Arkivmusic and now by Tafelmusik's own label. This recording is new, however, and it is also the first live recording of the orchestra. I hope that there will be many more. The achievements of Tafelmusik have been immense and further recordings should bring them to the attention of a wider audience.
Tafelmusik's annual Messiah performances take place at Koerner Hall December 19 through 23.