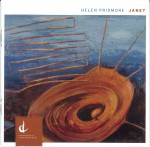 Janet
Helen Pridmore
Centrediscs CMCCD 17512
This is an album of works created for and performed by the British-born, Nova Scotia resident, singer and teacher Helen Pridmore. Its great strength is a closer than usual collaboration between an extraordinary performer and her chosen composers.
In Emily Doolittle's Social Sounds From Whales at Night, we are often unsure where actual recordings of humpback whales end and Helen Pridmore's vocalism begins — an eloquent and effective way to deliver this work's message of the seamless continuity between life forms on Earth. The humpback's songs (or calls or conversations) translated into human vocal music provide Pridmore with the opportunity to display her very accurate microtonal ear.
Martin Arnold's Janet is built of short phrases that are electronically "gated" so that, as Pridmore sings, we hear all the piece's elements — two vocal tracks plus banjo and electric guitar along with ambient environmental sounds — at the same time. But when she pauses, all sounds pause with her. The melodies — vaguely modal-sounding to reflect the Scottish ballad which inspired this piece — eventually turn on themselves to provide passages of effortless-sounding dissonance, while a long and clear downward melodic drift ensures formal cohesion. The banjo's timbre brings a certain hominess to the music which was recorded, in fact, in several rooms of Pridmore's home.
Another striking piece on this recording is Ian Crutchley's Helen Pridmore Sings, and Sings and Sings! wherein the soloist is invited to perform fragments of a broad and deliberately bewildering variety of songs and styles from Handel to Marlene Dietrich to the theme from (70s TV series) Happy Days and even from Emily Doolittle's composition on this same album.
Clearly, the composers have all been attracted to Pridmore's unique skill set and manner of working. The resulting music takes full advantage of her attractive and flexible voice, impressively extended technical and stylistic range and — perhaps most important of all — adventuresome spirit.