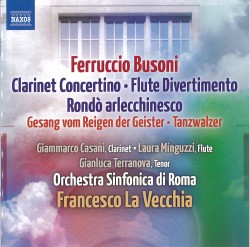 Busoni – Clarinet Concertino; Flute Divertimento; Rondo alecchinesco
Giammorco Casani; Laura Minguzzi; Gianluca Terranova; Orchestra Sinfonica
di Roma; Francesco La Vecchia
Naxos 8.572922
The Italian maestro Francesco da Vecchia, who favoured us last season with an ambitious new recording of Busoni's gargantuan Piano Concerto, continues his championing of the music of Ferruccio Busoni (1866-1924) with a generous sampling of shorter orchestral works by this sorely underrated composer whose inimitable compositions have long been overshadowed by his towering reputation as a legendary performer. The centrepieces of the present disc are two single movement wind concertos. Giammarco Casani is the exceedingly suave soloist in the Clarinet Concertino while Laura Minguzzi provides an appropriately sprightly interpretation of the mercurial Divertimento for flute and small orchestra. My only grievance with these interpretations is that they are engineered with the soloists forced unrealistically forward in the sonic mix.
An additional quartet of purely orchestral works presents a broad chronological overview of Busoni's stylistic development, commencing with the bustling neo-classical Comedy Overture of 1897, the moody, otherworldly Song of the Spirit Dance with its striking aboriginal references inspired by Busoni's foray to America, followed by the sardonic Rondò arlecchinesco (both from 1915) and concluding with Busoni's last orchestral work, the Viennese-accented Tanzwalzer of 1920.
In an unusual practice for Naxos, there are two different sets of liner notes, the usual prosaic English version by the ubiquitous Richard Whitehouse and, as best as I can tell, a considerably more insightful Italian essay by Tommaso Manera.